Bitwig opens up a whole new modular environment! Learn about the new Grid plugin in this Bitwig 3 overview. Furthermore, we look at how you can build your own custom synths & effects with the Grid. Let's go!
The path of Bitwig's software-hardware integration.
Bitwig is gaining traction in the DAW world. It's an exciting modern take on a Digital Audio Workstation. Especially for electronic producers. Since Bitwig 2.0 we've seen a focus on bridging the gap between the software- and hardware-world.
Bitwig Studio offers many specific vst plugin devices to connect and control external hardware. These dedicated hardware devices can send and receive MIDI notes and clock, CC, CV/Gate, or analog clock. This allows for advanced control, combining the strengths of two worlds.
Hardware instrument plugins
The HW Instrument plugin allows you to send notes and MIDI clock from your project to hardware such as drum machines and synths. You can route the audio back into the same track for convenience. And even let Bitwig automatically set latency compensation.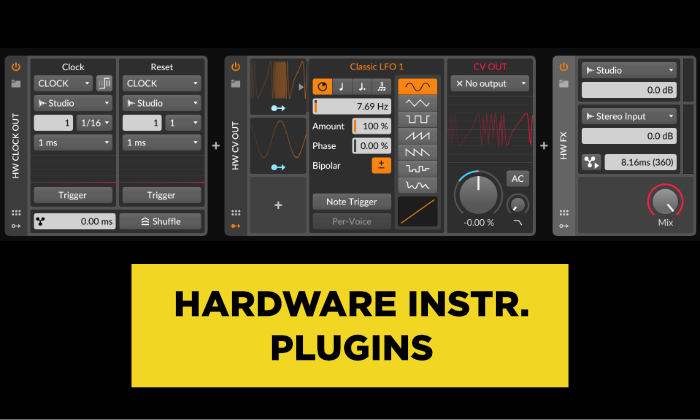 Furthermore there are several other MIDI devices, such as MIDI CC. This device can send continuous CC to any hardware, enabling automation and modulation for next level hardware-software integration.
I think the latest iteration of Bitwig 3 is a natural step for the DAW platform. With an accessible modular plugin, which basically anyone can use. The Grid will further strengthen Bitwig Studio as the leading platform for modern producers. Let us see what's new in Bitwig Studio 3.0.
How does FL Studio Patcher and the Grid in Bitwig differ?
When I first learned that Bitwig was developing a node based / modular editor I was very intrigued. I've longed for a modern, detailed and visual tool for sound design. My thoughts instantly fell on the Patcher, which is a node based tool in FL Studio suite of native plugins.
I've worked with the Patcher quite a lot in FL Studio, and I would really like to see something similar in Bitwig.
Pre-conceptions about the Grid
There is quite a drastic differance between the Grid and Patcher plugins. While the Patcher lets you add any kind of native OR third-party plugin as a module, the Grid works with specific "modular" modules.
My first pre-conception about the Grid was that it would allow the same type of third-party integration as the Patcher in FL Studio. But I was wrong on this point. At least in the current iteration of the Grid.
In the Patcher you can create your own control surfaces and route audio, events and parameter values between the different plugins. While in the Grid you work with grid-specific modules.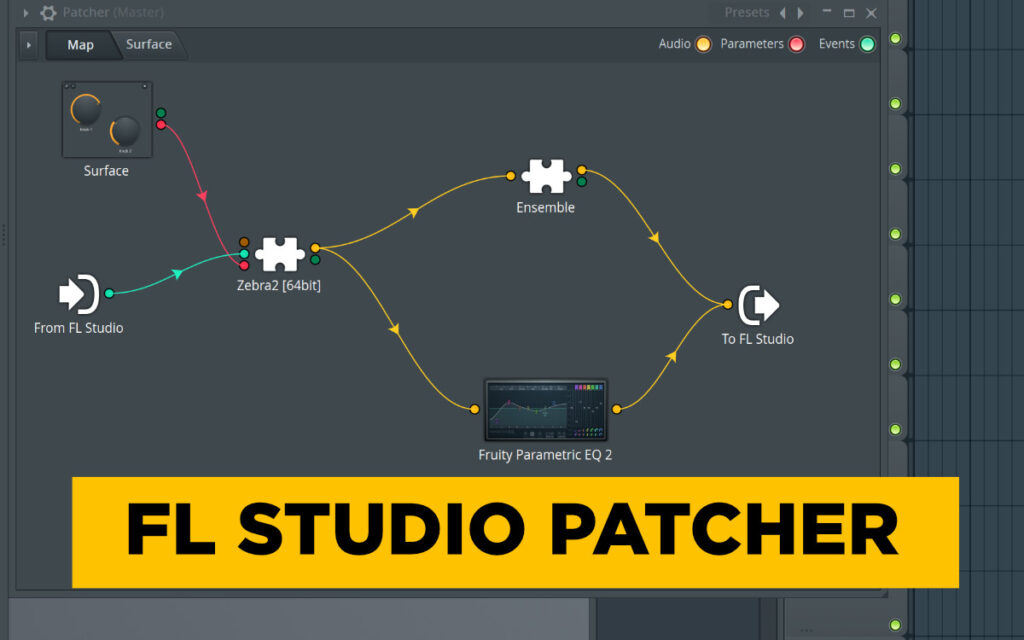 In theory there is a way you can use the Grid with third party plugins / effects. You can route audio from/to other sources (like; tracks / hw instruments / audio inputs) via certain input- / output-modules. But there is no direct way of adding a third-party plugin like Zebra 2, Omnisphere 2 or Phase Plant in the Grid.
On the other hand, the Grid is a fully modular synthesis environment with oscillators, envelopes, shapers, lfos, sampler, hw integration and logical devices. Everything you need to create your very own sound generators from scratch.
In conclusion, the Grid features it's own unique set of pre-defined modules created specifically for the Grid environment!
The Grid – a new native modular plugin in Bitwig 3
The Grid is a brand new modular environment introduced in Bitwig Studio 3.0.
Firstly, in Bitwig 3 you notice two new vst plugins, the Poly Grid and the FX Grid. Secondly, these "Grid plugins" contain a huge array of modules (building blocks) for designing your own synths.
All these Grid modules are patched via cables to create an audio signal flow.
What is Poly Grid and FX Grid?
While the purpose of Poly Grid is to give you an environment to create synths and sound generators. The FX Grid focus is to take incoming audio signal and manipulate it with the Grid specific devices.
In conclusion, this opens up a whole new sound world for music producers and sound designers.
The Grid includes:
Fully-modular sound design
Fantastic sound quality
150+ modules
Any signal, anywhere
Lighting-fast workflow
4x-oversampled, stereo signal path
Building blocks
It's surprisingly simple to get started with the Grid. The overall design has been worked out to give you an intuitive interface to work with.
We begin by creating a new instrument track, and open the browser to add an instance of the Poly Grid plugin.
The first iteration of the Grid comes with over 150 modules (building blocks) for sound creation and manipulation. To help you on the way there are several tools to get you started on your first modular sound design journey.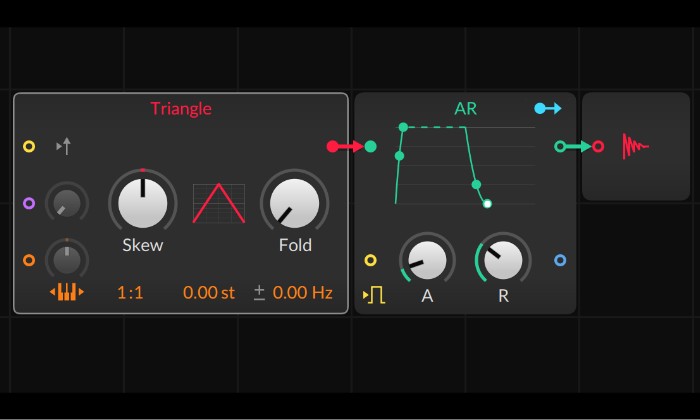 Modular patching made easy in the Grid
Firstly, the Poly Grid has a set of pre-defined modules in the default preset. The initial preset has a triangle oscillator patched into an AR (attack release) envelope module. Then the signal continues into an Audio Out I/O module, which will route the audio back into the Bitwig track channel. This gives us a very pure and basic triangle synth to play with in Bitwig 3.
Secondly, you can select any device in the Grid and press the "Show Help" button in the inspector panel. This button will bring up a large overview with all the details explained for that specific module. If you are new to synthesis or modular synths this is an invaluable tool to really learn how things work in the Grid plugin.
Let's look at one of these help pages for one of the new oscillators, Swarm.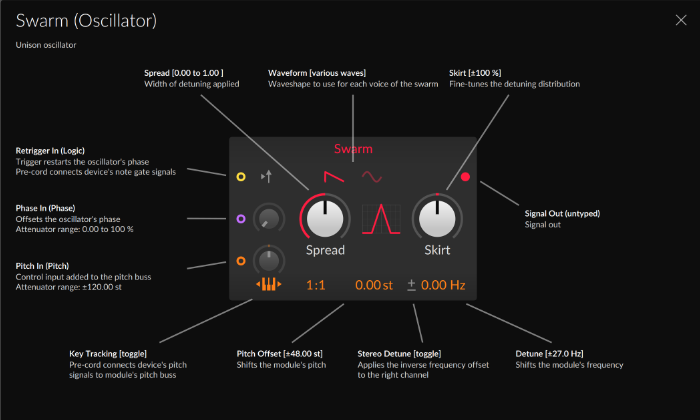 Stereo signals in a single cable
Furthermore the patching cables in the Grid are stereo cables. Unlike many other modular applications you don't have to patch two cables every time you want to connect one module into another. Importantly the Grid will take care of handling the signal for you wether it's stereo or mono.
If you split the signal with a Stereo-Split module, the signal will become mono in the L/R outputs. Finally we can make the signal into stereo again by using the Stereo-Merge module. See screenshot.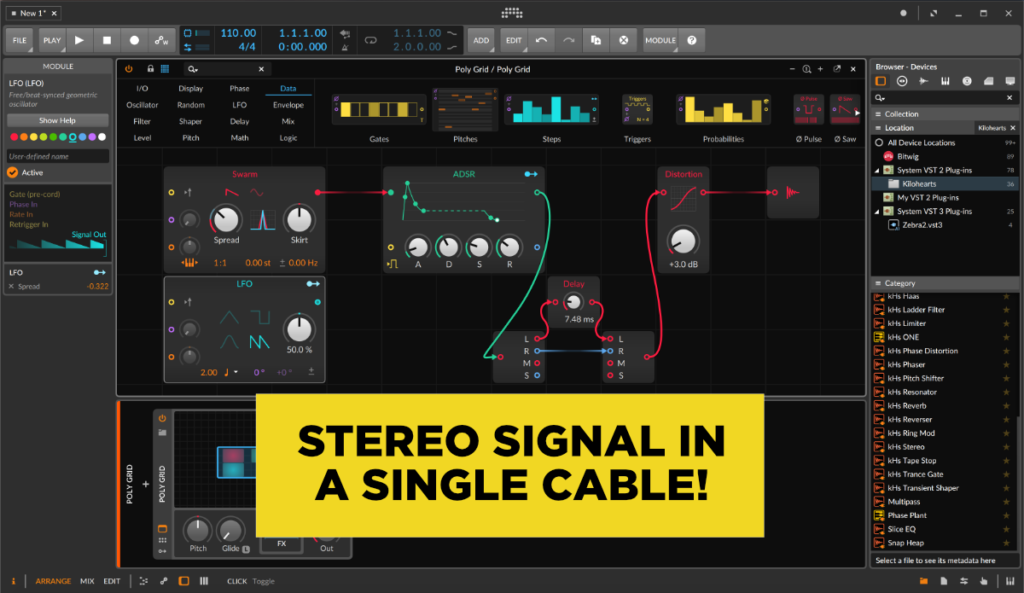 Automatic patching feature in the Grid
The most noteworthy feature of the patching is the automatic cable patching feature. When you add new modules you can drop them directly unto an input / output node of another module on the grid. This will pre-patch the module and create the necessary cables for your convenience. Consequently this will speed up your workflow in the Grid.
Module categories in Bitwig 3
With over 150 modules in the Grid it can be hard to know where to begin. To help you find the module you are looking for there are some intuitive "helpers" in the Grid:
Categorized modules
Search-bar
Right-click access to modules
Categorized module tabs
In the top-left corner of the screen is a selection of 16 block types. The categories are: filter, envelopes, shapers, delay, pitch, LFO and more abstract tools such as Math and Logic suitable for logic schemes and random functions.
And to add a module, you simply drag it into The Grid (or you can right-click on the grid-workspace and select a module). If you place the module in an empty space, you get a module with no connections. But if you place it over one of the input / output nodes on a device, Bitwig will automatically create the patching cables for you.
Grid module search bar
Although all modules are neatly sorted into categories it can sometimes be hard to remember what category a certain module belongs to. As a result, the Bitwig developers added a search input field at the right side of the module category tabs. This is a quick search which is extremely helpful. Just input "filters", to see all available filters. Input "env", to see all envelopes etc.
Sound quality
The Grid features 400% oversampling! This means that all sound generated in the Grid will be generated at 400% of your set sample rate. Consequently you can expect a pristine sound of high fidelity from Bitwig and the Grid plugin.
The oscillators, filters and shapers in the Grid all sounded very nice and smooth when I first tried them out.
In particular, I was surprised how good the regular Bitwig sampler sounded within the Grid. Especially the granular textures and cycles mode. Great!
The Grid presets
Initially Bitwig comes with +200 presets for the Poly Grid & FX Grid from various artists. Presets that you can explore and help you get started with the new modules and devices in Bitwig 3.
Future proof MPE compatibility
The Grid offers instant compatibility with the MPE protocol.
What is MPE?
MIDI Polyphonic Expression – or MPE – is a method of using MIDI which enables multi-dimensional devices like the Seaboard and BLOCKS to control multiple parameters of every note within MPE-compatible software. ROLI instruments, including the Seaboard RISE, Seaboard GRAND, and BLOCKS, as well as other instruments like the Continuum, Sensel Morph, Soundplane, and Linnstrument, use MPE to let music­makers control pitch, timbre, and other nuances within each note.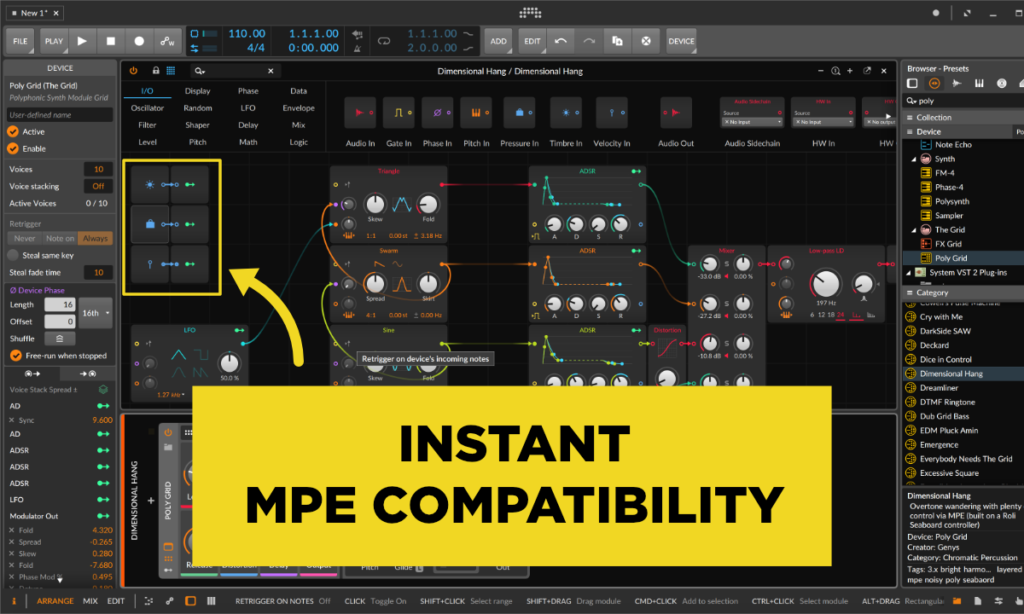 The Grid MPE features in Bitwig 3
Since the Grid is automatically compatible with MPE it's easy to get started without any specific setup. In the Grid you have input modules for pressure, timbre, velocity and much more. Hook these expression modules up to a modulator of your choice in the Grid to receive the relevant midi data from your MPE compatible midi controller. As a result it's very quick to work with MPE in the Grid.
Other important updates in Bitwig 3
While the Grid is the biggest change in this latest update of Bitwig, there are many more important new updates:
Ableton LINK version 3, supporting start/stop synchronization.
Automatic Project Backups, each time you re-save a project
Redesigned Instrument Inspector, offering polyphony, two mono voice modes, and moreAbleton LINK version 3, supporting start/stop synchronization.
Automatic Project Backups, each time you re-save a project
VU Meters in Routing Choosers, showing the signal you are looking for
Reworked audio backends, sporting timing improvements on all platforms
Bitwig 3 Review – Conclusion
Bitwig 3 offers some really exciting tools for modular synth enthusiasts and modern music producers alike. The new Grid plugins is an excellent execution of modular synthesis in the software world.
Importantly the plugin is straightforward and easy to work with. Even if you are new to modular synthesis.
While the design is sleek and minimal the deep functionality of the Grid will boost your sound design to new heights.
This update is an important step in the development of one of the more exciting DAWs for the modern electronic music producer. In conclusion I think Bitwig just made a home run with the Grid! Download the demo and try it out for yourself.
Want to learn more about Bitwig Studio?
If you want to sharpen your Bitwig Studio skills, or just learn the basics of this wonderful DAW you can check my series below.
Bitwig Studio Basics Tutorials
Bitwig tutorials for producers
What gear I use in the studio? Check out the Resources Page.

Join my exclusive community: https://www.patreon.com/gelhein

Be sure to sign up to our newsletter for new exciting articles in design, music production and sound design.

Boost Your Productions – Pristine Sound Packs