Apple takes another leap in the M1 technology with a new range of powerful laptops promising outstanding performance, more unified memory, improved audio and expanded connectivity.
We were all waiting for the updated versions of the M1 chip (social media fictional "buzz" name: M1X). In the Apple "Unleashed" event on October 18 Apple revealed two extended versions in the M1 Pro, and M1 Max powered MacBook Pros.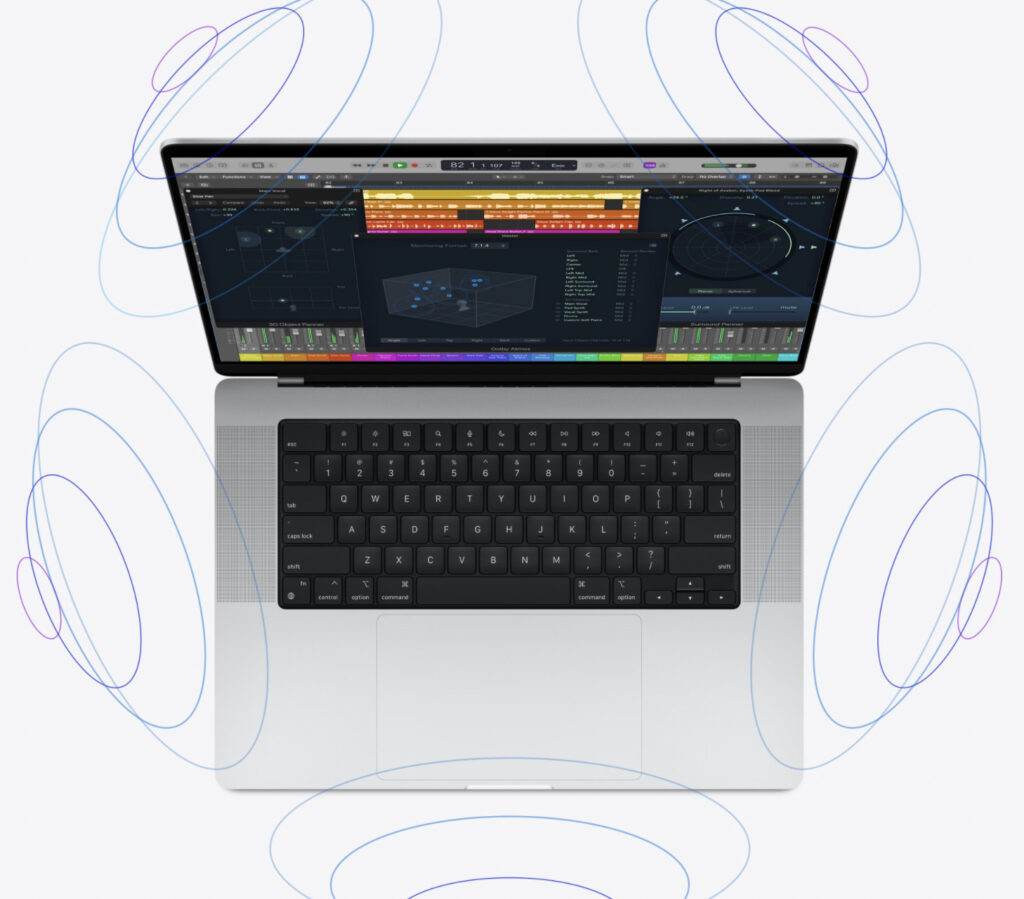 (Image credit: Apple)
M1 Pro and M1 Max MacBook Pro machines for professionals
Extremely powerful new laptops featuring up to 64 GB of unified RAM. This will be a massive game changer for music producers working with huge sample libraries and video editors mashing demanding applications and high quality images. The new MacBooks come in 14″ and 16″ models with extended 10 core CPU + the Liquid Retina XDR Display previously seen in the new iPad Pro. Up to 32-core GPU to take your video editing and graphic intense work to a completely new level.
Features of the MacBook Pro M1 Pro and M1 Max:
Up to 10-Core CPU
From 14 to 32-core GPU
Liquid Retina XDR Display (also enlarged screen space)
64 GB of unified memory (max)
Increased storage roof – up to 8TB SSD Storage
Up to 21 hours battery.
Redesigned keyboard – thank god!
1080p camera.
6 speakers with extended bass range (up to one half octave lower bass!) 80% more bass.
Up to 400GB/s of memory bandwidth
Neural Engine for supercharged machine learning and upgraded media engines with ProRes support (video editors will love this…me included!)
Dedicated encode and decode media engines that support H.264, HEVC, and ProRes codecs
Support for two external displays (up to 3 in the M1 Max)
Up to two times faster video encoding
Comes in 14″ and 16″ models.
ProMotion in M1 Pro and M1 Max MacBooks – finally higher refresh rates!
Finally faster refresh rates!
ProMotion comes to Mac for the first time, making everything from scrolling through a web page to gaming super fluid and responsive — while also reducing power consumption. With refresh rates of up to 120Hz, the adaptive technology automatically adjusts to match the movement of the content. Furthermore, ProMotion video editors can also choose a fixed refresh rate that precisely aligns with their footage.
Upcoming review of the M1 Max MacBook Pro on my YouTube channel!
Sign up to my newsletter so you don't miss out on my upcoming deep review of the MacBook Pro M1 Max 14″ 32GB! I will post a full performance test video on the M1 MAX as soon as I get my hands on it. I'll be testing music production applications (plugins, Logic Pro, Ableton Live, Bitwig etc.), video editing (Davinci Resolve) and many other applications to see how far we can go with the brand new extended M1 chips!
Exciting times!