In this masterclass, you will learn all the essentials of Bitwig Studio 4.
SIGN UP (Pre-book) to learn more about the Bitwig Studio MasterClass HERE!
How much? It does not cost anything to pre-book your seat. But once the Bitwig class goes live, the fee will be €149 Euro (+ 25% VAT) to enter.
FREE CONTENT – Everyone who signs up to the pre-booking, AND pays the entry fee when the course goes live will receive an extensive Bitwig Studio preset package for FREE (more info below).
Bitwig masterclass overview
Do you want to learn how to work with one of the most exciting DAWs on the market today? In the Complete Guide to Bitwig Studio MasterClass you will learn all the important features of Bitwig Studio. It's a course for beginners and intermediate users who want a great foundation taught by renowned instructor Mattias Holmgren (Sweden). Known for his Bitwig Studio Basics series, Film Scoring and Game music series on YouTube.
Bitwig Masterclass episodes
Introduction – quick overview of the Bitwig strengths as a modern music production environment.
User Interface
Audio Interface Setup
Devices explained
Bitwig Browser – get familiar with the device browser of Bitwig Studio.
Recording Midi
Midi Editing
Recording Audio
Audio Editing
Arrangement view
Clip Launcher
Instrument devices in Bitwig Studio
Advanced Audio Editing
Advanced Clip Launch programming
Advanced production techniques in Bitwig

Upcoming episodes (not available at course launch in September)
The grid – introduction
The grid – how to build your first synth
Working with external synths
Subject to change as the final titles and content of the course might be adjusted before release.
What can I expect from the Bitwig course?
On launch, the Bitwig MasterClass contains +10 videos.
Firstly, you will become familiar with the modern user introduce of Bitwig. Secondly, we will look at the most important areas of Bitwig to get started making music. Furthermore, you will learn to work in both the arrangement and clip launcher view… and both at the same time! Yes, Bitwig is extremely powerful for music production and sound design.
Of course, we will also cover more advanced areas like modulators, automation and the recent note Operators.
My belief is that a music software should always be taught from a musical perspective, rather than a technical (boring) entrypoint. If you are familiar with my Bitwig Basics and Bitwig advanced work on YouTube you know exactly what to expect and how I work when teaching Bitwig Studio.
Questions during the Bitwig Studio masterclass?
If you have any questions or bump into problems during the course you can always contact me with questions which will be answered ASAP.
Learn the Bitwig music software from a musical perspective
This Bitwig course has a red line to make it accessible for new users. And as we get deeper into the Bitwig masterclass we will explore advanced functionality.
We will be looking at the user interface basics, audio interface setup, recording audio / midi, editing to the more advanced features you need to know your head around in Bitwig Studio to be able to create modern music.
When will the Bitwig masterclass launch?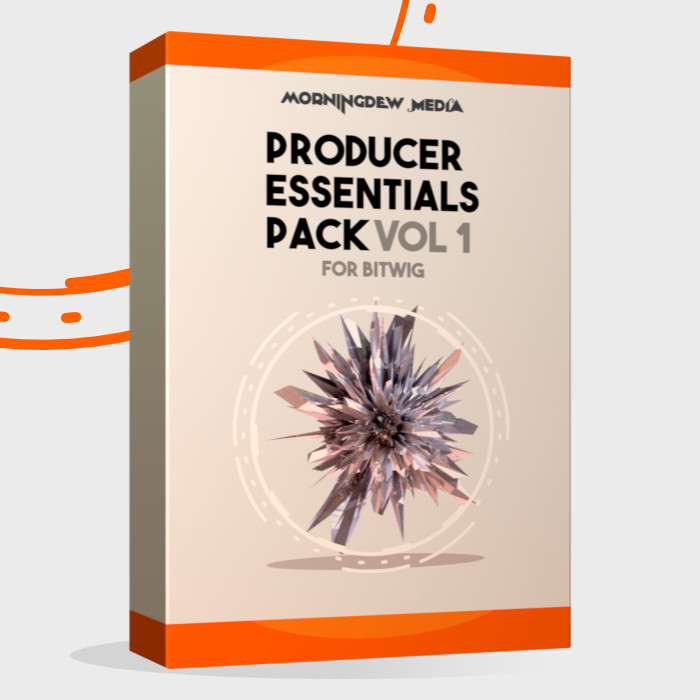 September, is the goal.
At the moment I am working on preparing the content. Bitwig just launched the Bitwig 4 beta, so you can be confident the course will cover the latest features of Bitwig Studio 4.
The course is planned to go live in late September.
You can already sign up your interest to the Bitwig course here! Once signed up, you will not miss out on any important information regarding the course.
It doesn't cost anything to sign up!
But, if you sign up, and also enter into the course once it goes live, you will be eligable to a free copy of the Producer Essentials Pack Vol #1 for Bitwig Studio (€25).
Who is the course for?
The Bitwig Studio Masterclass is for everyone who just bought Bitwig Studio, or have been using Bitwig for a while, but want a better understanding of the complete DAW package. You are welcome to sign up your interest here!
"As you know, madness is like gravity…all it takes is a little push."

The Joker
How long will the course be available?
Pay a one time fee of 149 EUR (+ 25% VAT) and get lifetime access to the evolving Bitwig Studio Masterclass course.
Are there assignments in the Bitwig Studio masterclass?
No, the course is crafted so you can take it in your own pace and start wherever you want. It is totally up to you where you want to enter, and what content you want to focus on.
Bitwig Studio 4 introduction video
I don't have Bitwig Studio yet and want a discount code
If you don't own Bitwig yet, fear not. Go to my Bitwig Studio sale page and grab a license + discount code.
Ok, see you in the masterclass!
Yours truly,
Mattias 🌞