Bitwig announced the next major release in Bitwig Studio 4!
The new version, Bitwig Studio 4, features new musical timelines, Operators, Apple M1 Mac support, mp3 export and Ableton Live file import!
Bitwig feature roadmap at a glance
Bitwig Studio have definitely found their place among the big names in the DAW industry with exciting features for the modern music producer. Especially if you are into any kind of EDM or experimental music. While Bitwig 3 announced the Grid system with a complete modular environment living within Bitwig Studio, version 4 takes this organic feature set even further with note operators.
Making organic music in Bitwig 4 with conditional note events
Bitwig 4 features continues down the road of playful & organic randomization to breath life into stale composition. With the past releases we have had many modulators to breath movement into our parameters and sounds. In Bitwig 4 you have note Operators.
If you ever played an Elektron device, like the Digitakt, with conditional triggers you know what the trigs, err I mean "note Operator" can do.
What are Operators in Bitwig 4?
Operators are rules triggered by note and audio events. Like "trigs" they represent the continued evolution of the DAW from something that has everything frozen in time and, well, boring, to an environment that's more generative and dynamic.
Chance – Throw a dice and find out if a note event will trigger. Chance is a great feature to quickly make your midi arpeggios come alive!
Repeat – Note event repeats. How many times should a specific note be repeated?
Occurance – Lets you set certain conditions for each event to determine whether it should play. Is this the first loop? Is the performance control "fill" button turned on?
Recurrence – Recurrence allows you to dictate when an event plays during a set number of looping cycle.
Feature trailer of Bitwig Studio 4!
Check out the exciting video from Bitwig Studio team!
Export audio to mp3 in Bitwig Studio 4
Finally, mp3 export options in Bitwig! The export screen have been re-designed slightly with some new modes. Mp3 export in Bitwig should satisfy many producers.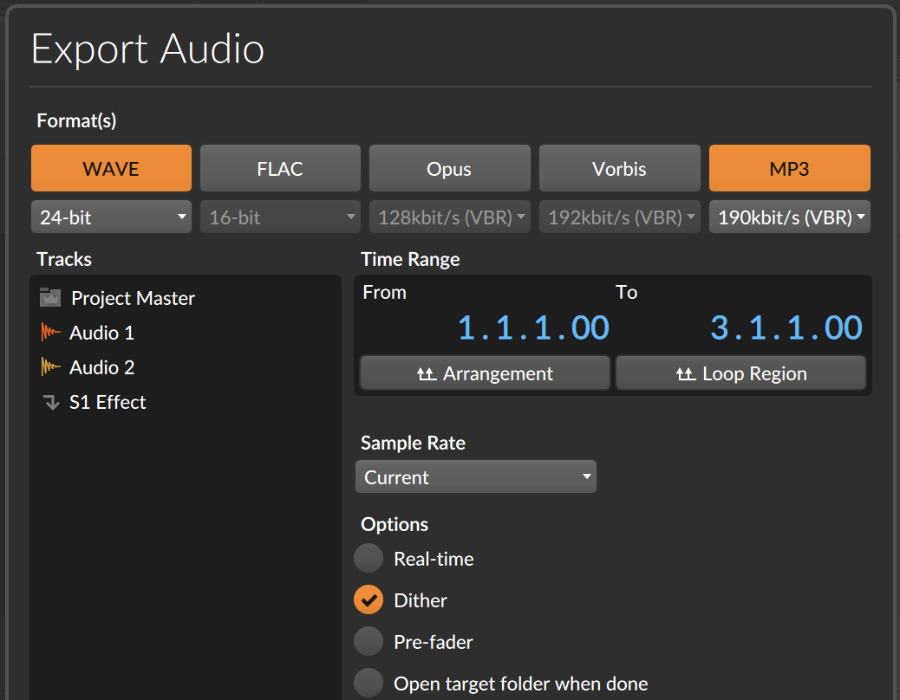 Track Comping in Bitwig Studio 4
Comping lives within the clips. It's easy to activate comping with the overdub button (below PLAY). Track comping in Bitwig Studio 4 works within the arranger and within the clip launcher so you can work in your prefered environment. Furthermore, you can even drag comp takes between the arranger and the clip launcher! Great!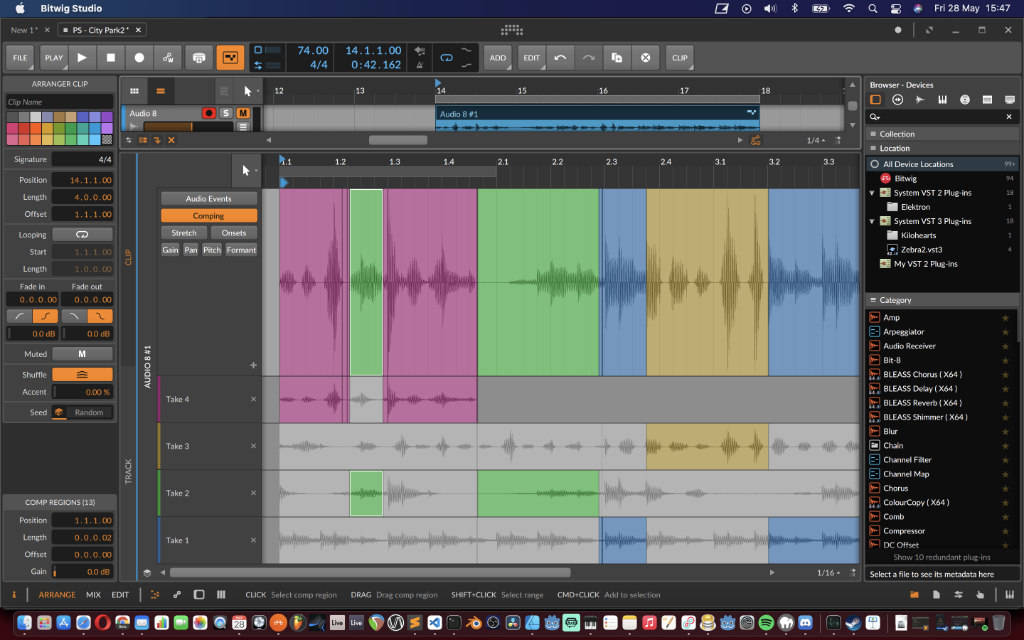 Is Bitwig Apple M1 compatible?
Yes, with Bitwig Studio 4, Bitwig can run in apple M1 mode (native arm64). With the flexible plugin support in Bitwig, it basically runs the DAW and plugins separately. You can safely run native arm64 plugins AND intel VST plugins alongside each other. If a plugin does crash, Bitwig Studio keeps running. And you can just restart / replace the plugin that crashed.
If you want to find out more about the Apple Silicon M1 architecture and technology you can check my previous articles and videos here.
Is Apple M1 good for music production?
Amazing Strings in Bitwig 4.1.2
Bitwig teamed up with Orchestral Tools for the release of Bitwig 4.1.2 to include a sweet package of orchestral strings. You get pizzicato, sustained, sordino and spiccato. Check out my walkthrough video where we also compose an orchestral music cue.
What's missing in Bitwig Studio 4 release?
With such a huge set of new features… are there still major features missing that I wish the Bitwig developers would implement? I actually spoke to one of the key developers (Claes) at NAMM 2020 about this. Video support!
VIDEO SUPPORT!
IMO Bitwig should have included video support in Bitwig Studio 4.0. Everyone is making music to videos these days. May it be the huge amount of short films, games, TikTok, YouTube or Instagram stories. I really would have liked video support with this release. All other top DAWs have this feature. So I hope the Bitwig development team will include it in an upcoming "minor" release, maybe 4.1!? 😉
All in all it's a very welcome release in Bitwig Studio 4.
Try out Bitwig Studio 4 before official release
If you have an active license subscription of Bitwig Studio you can download the Bitwig 4 beta today!
Don't have Bitwig yet?
You can always purchase Bitwig via my affiliate links + 10% discount code here.
If you have some suggestions of content you would like me to highlight or show in future videos, please PM me on Instagram!
I also have a very exciting announcement to make, but…all in due time! 😉
Thanks!
// Mattias Holmgren – Your Bitwig instructor!