The best Thunderbolt hub for M1 Mac is the Belkin Thunderbolt Dock Core and in this article I will explain why! At first glance this thunderbolt 3 hub offers Dual 4K displays @60Hz, 40Gbps Transfer Speeds, 60W Upstream Charging + dual USB-A 3.2 ports.
You are probably well aware that there are only two thunderbolt ports on the Apple M1 based MacBook Pro 13″. So you need to get some kind of hub to connect more devices to your brand new Mac.
With millions of Thunderbolt and USB-C hubs around for the new Macs… which Thunderbolt Hub will get you the best connectivity and flexibility?
Thunderbolt is NOT the same as USB-C
First, let's talk about the Thunderbolt ports of the new M1 Macs. There is a BIG misconception about the USB and Thunderbolt technology since the ports look exactly the same.
Although the slots and cables look the same, Thunderbolt and USB-C is not the same interface. Of course the ports on the new Macs with Apple Silicon M1 CPU accept both Thunderbolt AND USB-C to be connected to the slots.
But you need to be aware that you can't connect Thunderbolt gear to a regular USB-C slot on your other PC/Mac computers.
Unfortunately the ports on the new Macs, as well as USB-C ports on most other devices, are seldom marked properly. You're just supposed to know what kind of ports they are. Make sure to always look at the product description.
Backwards compatibility
The Thunderbolt 3 / USB-4 port of the Mac is backwards compatible with older thunderbolt / usb protocols.
Thunderbolt gear only work in thunderbolt ports
Thunderbolt gear ONLY work with Thunderbolt capable ports. You can't connect a UAD Apollo Thunderbolt 3 interface to a USB-C port. You need a dedicated Thunderbolt port to make it work!
Since the MacBook Pro M1 13″ (2020) only features 2 Thunderbolt / USB-C ports you probably want to connect some kind of Hub to connect more gear to the Mac. This is where it gets tricky and you need to be aware that even if you connect a hub with similar ports. These "hub"-ports are probably only supporting USB-C devices, and NOT Thunderbolt devices.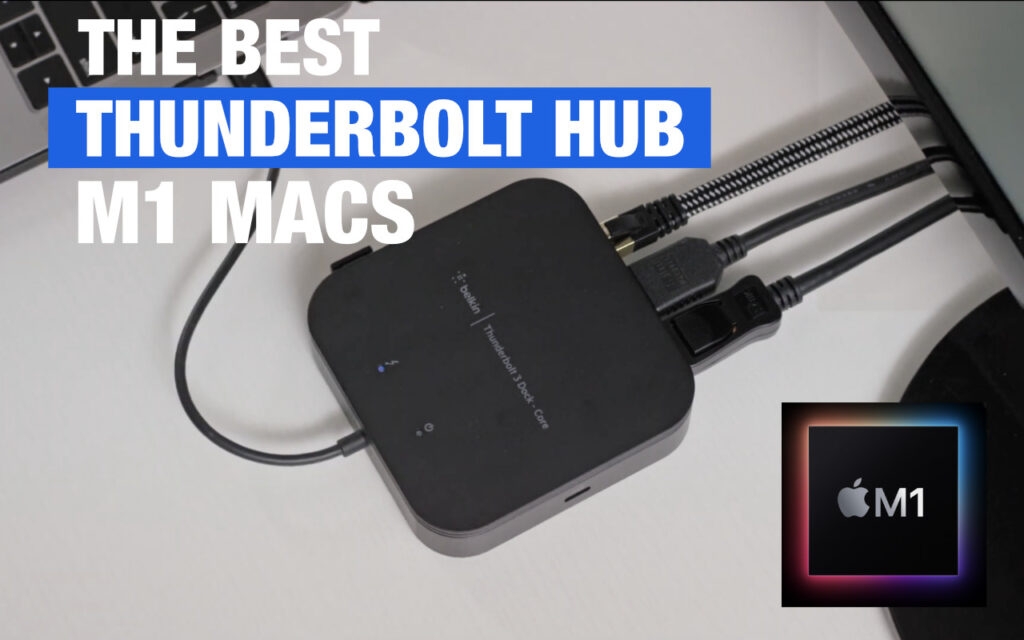 Belkin Thunderbolt Dock Core hub is the best thunderbolt hub for M1 Macs
Firstly, the Belkin Thunderbolt Dock Core offer great connectability AND power charging for your M1 Mac. Secondly you get all these features in a very tight package which fits right into your backpack (if needed).
Available Ports on the Belkin Thunderbolt Dock Core hub:
Thunderbolt 3 (connect to your Mac)
1x usb-c pd (to power and charge your Mac)
1x displayport 1.4
1x hdmi 2.0
1x Gigabit Ethernet
1x 3,5 mm sound in/out for microphone, speakers etc.
1x usb-a 3.2 gen 2 (10 gbps)
1x usb-a 2.0
Best Thunderbolt Hub for Music Producers
The best thunderbolt hub for music producers is a hub which does NOT occupy more than one single Thunderbolt port.
Why?
If you get a Thunderbolt audio interface, like the UAD Apollo Twin X Thunderbolt 3 device, you need to have ONE Thunderbolt port from the Mac dedicated to that Apollo Twin X audio interface.
It does not work via USB-C hubs! Again, USB-C is not the same as Thunderbolt.
UAD Apollo Twin X Thunderbolt and Apple M1 Macs
Apollo Twin X THunderbolt 3 interface does NOT work with a USB-C connection. Trust me, I learned it the hard way on my Windows PC which had a USB-C port that looked like a Thunderbolt port… It does not work!
The Apple Silicon M1 CPU and the new Macs are filled with great technology which you can read more about in my article Apple M1 for music production.
M1 Thunderbolt controller in the new Macs
The thunderbolt 3 controller on the M1 Macs offer transfer speeds up to 40Gbps!
Furthermore, the Thunderbolt controller of the new M1 Mac models is not on the actual motherboard, because IT IS UNIQUE and contained within the actual M1 SoC as Apple has communicated in the following article: https://www.apple.com/newsroom/2020/11/apple-unleashes-m1/
Conclusion
I hope this article gave you better understanding of the Thunderbolt 3 / USB 4 ports of the new M1 Macs. And that it was helpful in describing why the Belkin Thunderbolt Dock Core is the best Thunderbolt Hub for M1 Macs!
Thanks!