Omnisphere 2.5 first look video and article. I created a video to show some of the new exciting features of Omnisphere from Spectrasonics. This really is a beast of plugin instrument. You can do some pretty amazing sound design with Omnisphere, especially with the granular synthesis mode.
What I re-discovered when doing the Omnisphere 2.5 first look video
After trying Omnisphere 2.5 for a few days I rediscovered Omnisphere as a plugin instrument and it feels like a fresh re-invention of this excellent Power Synth.

Yes, Spectrasonics called it Power Synth when releasing the initial version of Omnisphere.
I would rather call it – The most used synth in modern film scoring. Because that is true, everyone uses it. In Hollywood movies you will find Omnisphere patches all over the place.
It's not so weird that you find presets from Danny Elfman himself within the core library of Omnisphere. Great!
It's time to go back to this wonderful synth that really changed the world for many composers out there. I know it changed mine!
---
New features of Omnisphere 2.5:
Firstly, there are several new additions to Omnisphere in this update that will give you new tools for sound design. Here is a quick description on the new features.
Hardware Synth Integration
This really is the big news of Omnisphere 2.5 update. This means that Omnisphere is now fully integrated and supports 30 hardware synths. With unique "Hardware Profiles" for each supported synth.
The hardware synth integration bridges the physical experience gap between software and hardware, giving us intuitive control of Omnisphere by using the familiar layout of our supported synths.
You will find "Hardware Profiles" for some familiar synths like; Moog®, Dave Smith Instruments®, Roland®, Korg®, Novation®, Nord, Access, Studiologic, Sequential®. And more will be supported in the future.
The hardware synths cover a wide range of types and price ranges for different types of users.
Boost Your Productions – Pristine Sound Packs
Expanded Synthesis Capabilities
Each patch can now utilize up to 12 envelopes, 8 LFOs and the Modulation Matrix has been increased to 48 modulation routings. Newly designed State Variable Filters are included which makes it easy to go from LP to HP filter with just one filter! You can achieve some pretty amazing sound design with the amazing envelopes of Omnisphere.
New Hardware Sound Library

You get a increased patch library with over 1,000 new patches created by Eric Persing and the Spectrasonics team.
New High Resolution Interface
Omnisphere 2.5 features a brand new GUI (graphical user interface). The update includes Retina/hi res graphics for 4K monitors. The design gives the plugin a nice facelift that feels modern and fresh. Making it easier than ever to scale and resize.
New Granular Layout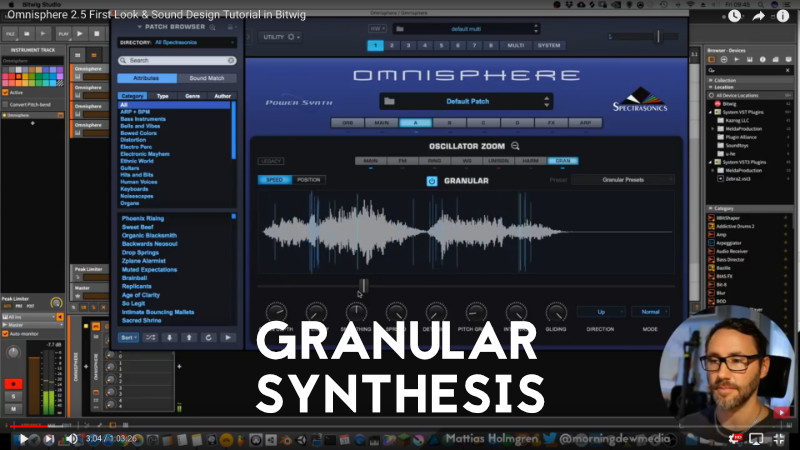 The new granular page now shows how the grains (sample playbacks) behave. Thus making it easier to control and design your sounds the way you want. I've seen this live view and granular layout before in a plugin called "The Mangler". Therefore I am glad Spectrasonics included this kind of view in the interface of Omnisphere 2.5. Use the granular synthesis engine to find exciting material deep within your sound files.
Windows Multitouch Support
Omnisphere 2.5 now fully supports Windows X Multitouch computers and tablets. This means that the new Live Mode page can function as a deep functional stage interface when used fullscreen on a Windows computer.
---
---
Thanks for watching the Omnisphere 2.5 First Look and sound design video.
Transition techniques in music production
I recently did a thoroughly video and article giving multiple tips on how to create transitions in music production. Read more about Transition Techniques in music production here.
What gear I use in the studio? Check out the Resources Page.

Join my exclusive community: https://www.patreon.com/gelhein

Be sure to sign up to our newsletter for new exciting articles in design, music production and sound design.