These are my 5 reasons to work in Bitwig Studio as my main DAW. In this article I will explain the key features which made me select Bitwig as the king of DAWs for 2019.
5 reasons to work in Bitwig Studio
Quick audio editing workflow
Firstly, Bitwig has a very clean audio editor. Feature filled to make your audio editing a breeze. Reverse sounds in a heartbeat. Stretch and pitch automate audio clips without obnoxious menu diving.
Sleek design and colour scheme
Bitwig Studio features one of the most modern and streamlined interface I've seen in any DAW to date. The interface shows the necessary options when you need them. It's vector-based and scalable. Bitwig also supports multi touch and works like a charm on a Surface Book / Pro.
Mid / side and multi-band split devices
If you want a clean mix it's good practice to be thoughtful about your low end. Bitwig comes with some great splitting devices like Multi-FX2 and Multi-FX3. Use the Multi-FX devices to split the frequency bands and only add effects to the low-, mid- or high-frequency spectrum. You can also add a stereo-splitter, the Mid-Side Split Device. Which allows you to process the mid and side audio channels separately. In Bitwig it's easy to clean up your bass frequencies, once and for all!
Native modular environment
Bitwig makes it easy to create movement and life in static sounds. Just throw in one of the various LFOs or random generators and quickly make a parameter move. Use the modulators to create moving EQ points, animating dry / wet signals and much more.
Dedicated device browser – Bitwig has a dedicated device browser which pops up as soon as you want to add a device. Furthermore, it comes with an excellent search function. It's dead simple to find plugins, presets and samples from the browser window.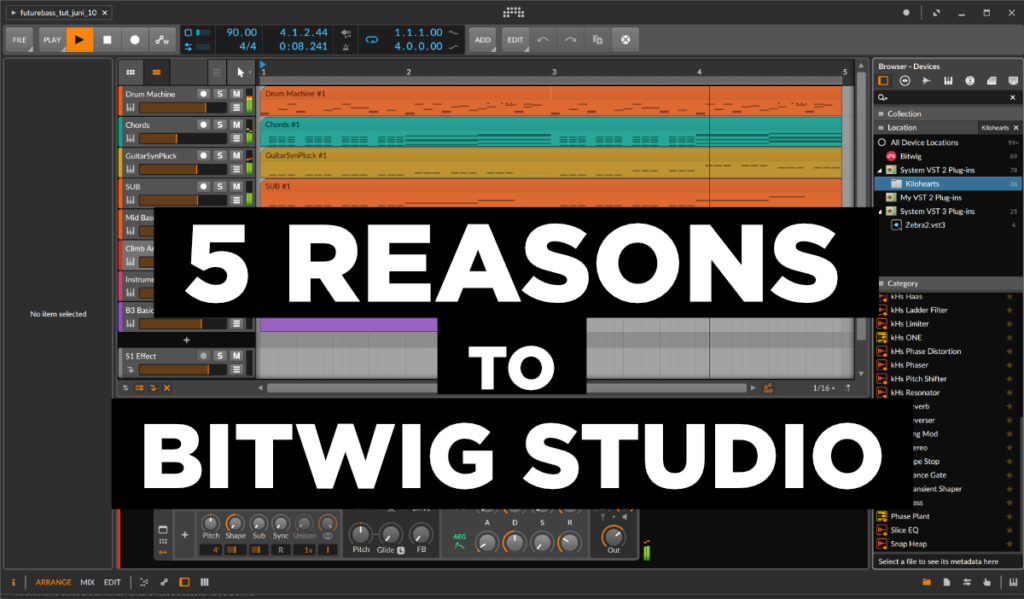 5 reasons to Bitwig
In conclusion, Bitwig is a powerful DAW created with the modern electronic music producer in mind. Every aspect of the DAW is carefully crafted to offer a lean and smooth production cycle.
Learn more about the Bitwig 3 update and the Grid here.
Finally, if you want to learn more about Bitwig Studio I have several articles and videos for learning Bitwig.
Take a look at the Bitwig Studio tutorials for advanced users.
Or get to know the basics of Bitwig in the Bitwig Basics Series.
Learn the deep functionality of Bitwig Studio in the Mattias Holmgren You Tube channel.
Boost Your Productions – Pristine Sound Packs