Massive X review and first look. In this article and video we look at the new flagship synth from Native Instruments. Is this vst synth going to replace Serum and Massive (Vanilla)?
In the Massive X review & first look video we listen to some presets and talk about the interface design of Massive X. We look at the various modules that make up the Massive X vst plugin instrument. I also give some creative feedback to the developers (Native Instruments) which would make Massive X more comfortable to work with.
Massive X Price – £179 | €199 | $199
Massive X review – The Synth Of The Future?
Native Instruments is marketing Massive X as the synths of the future with their tagline "What does the future sound like?".

Firstly, the interface surely looks like something fresh and new. Secondly, the wavetables have been updated. The plugin also features multiple noise tables with a creative set of interesting sources. Furthermore, the filters have been updated and now includes some really great algorithms like SVF (State Variable Filters) and the Monark filter!

In conclusion, this truly makes way for a monster synth with such powerful features. Let's continue and investigate the Massive X plugin.
Dual Wavetable Oscillators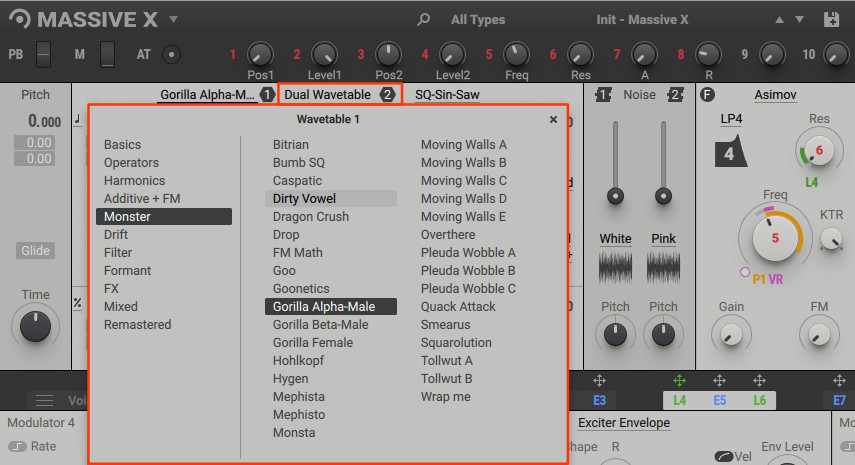 Initially, Massive X comes with +170 wavetable oscillators sorted neatly into folders. While the original Massive came with one of the best sets of wavetables, I really feel the sound and quality of these updated wavetables really brings some fresh into play. Furthermore, you have a folder of "remastered" wavetables which sound really great too.
In the current version, v1.0, of Massive X it is not possible to import / export wavetables. But I've heard that Native Instruments is working on an update to support customisable wavetables.
Oscillator Effects In Massive X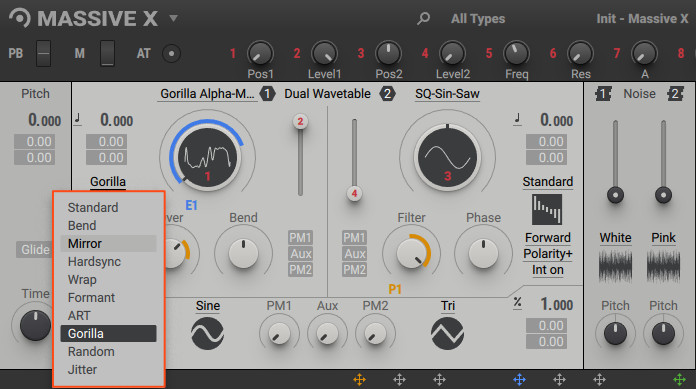 Massive X features a new set of oscillator effects which can bend and mould your oscillator phase into oblivion. While the traditional Mirror, Bend and Warp is included, we also find a very potent effect in the Gorilla device. If you ever try the demo of Massive X, use a basic saw wave and modulate it with the Gorilla oscillator effect and ride the Bend knob. Wicked!
Massive X Goes Modular With The New Node Editor – Routing
Yes, finally there is a node editor where we visually can see the routing within Massive X. As stated above, looking at an image (node editor) is 100x more effective than looking at numerous (hard to read) knobs, values and faders to realize how a sound is made up within a synth.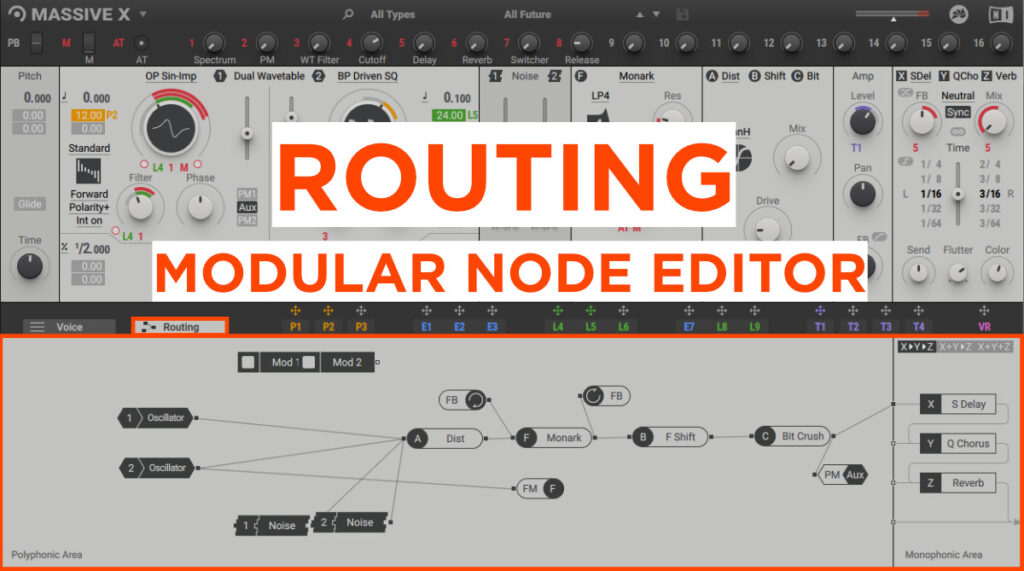 As a matter of fact, I highly recommend visual node editors for any type of programming (yes, sound design is a sort of programming). One of my favourite DAWs, Bitwig Studio, comes with a native node based modular plugin called, The Grid (Poly Grid and FX Grid).
Read more about Bitwig Studio and watch videos about the modular Grid plugin.
The Massive X User Interface (UI/UX)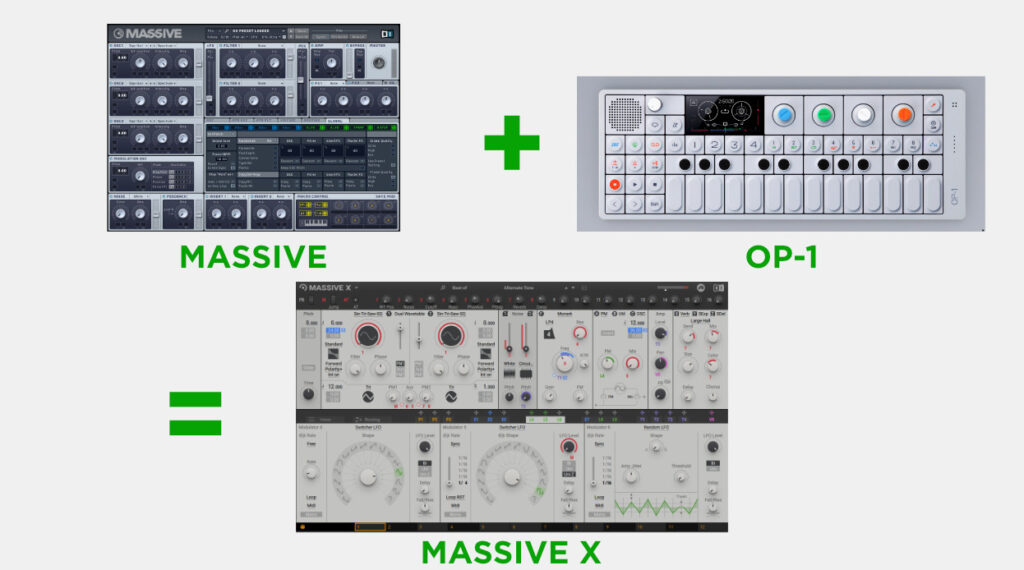 With Massive X the user interface has been designed with minimalism in mind. The interface instantly reminds me of the sleek white design of the OP-1 from renowned designers at Teenage Engineering (Sweden). Massive X features the same white design with some carefully splashes of colors. In the review video of Massive X, I put the OP-1 beside Massive X and they really go hand in hand with the colors and design. It's like the hardware OP-1 synth gave birth to a software synth. 😉
Navigating the modules and parameters
The minimal user interface in Massive X makes good use of the subtitles for the various sections and modules in the vst plugin. If a title has an underline, that means that you can click that title to bring up additional information about the module. Or sometimes replace the module with another variation. In the effect section it means that clicking the subtitle first will select the module and show it's parameters. If you click again you will get the popup for replacing the module with another module.
At first the double functionality of the module-titles felt a bit odd. But I think that this is actually a very good solution to make good use of the module titles and get a less cluttered interface. Great work Native Instruments!
Modulation
It's easy to modulate a parameter in Massive X. Just drag any of the LFO / Env / Perf modulator sources (yeah, that cross/arrow icon) to a target parameter (white boxes). Those white modulation target boxes are almost invisible against that light grey background. I hope NI will fix this in an update. See the image below for further details.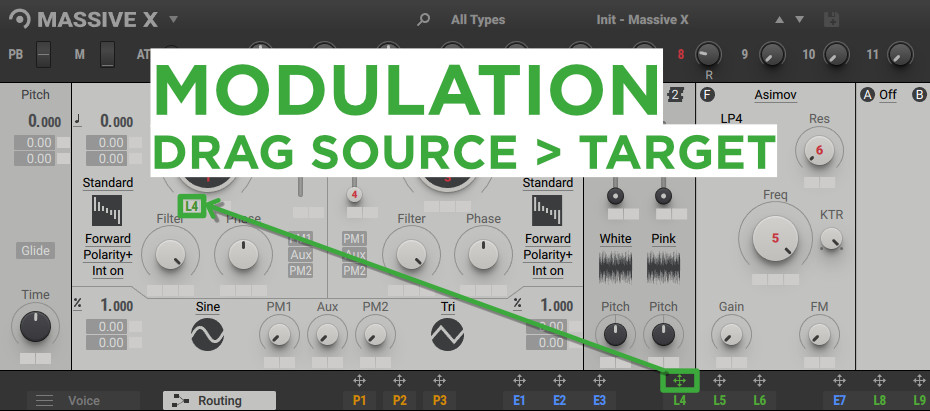 Design Choices In Massive X
The designer of Massive X apparently decided to hide parameter values (numbers) to keep the really minimal design. Therefore, Massive X does not have animated LFO oscillations and modulation (parameter) animations like we have grown accustomed to in most other modern synths. This makes Massive X a bit hard to work with compared to say Serum or Omnisphere 2.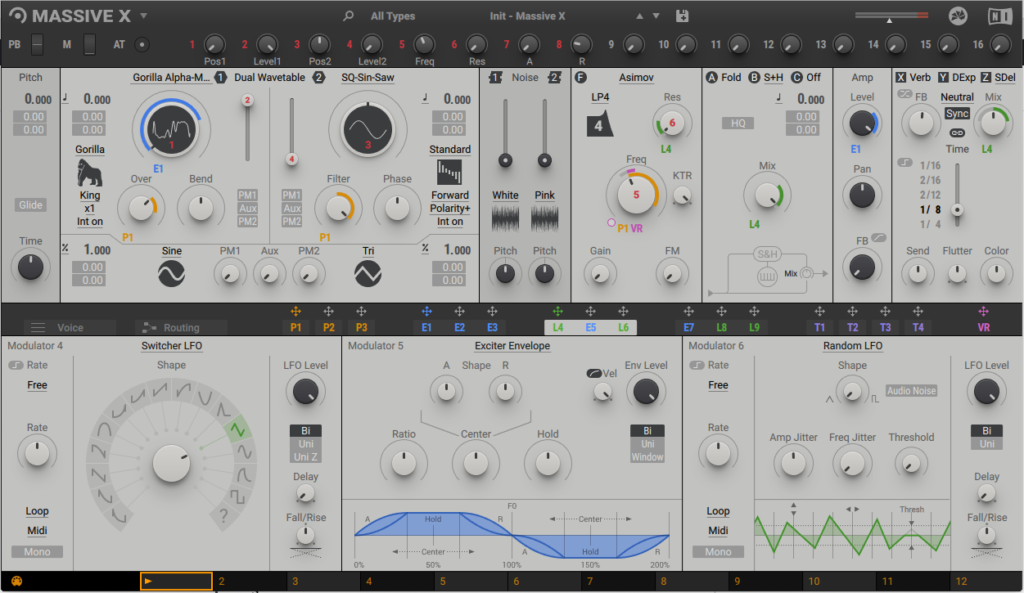 The ADSR envelopes are also static images at the moment.
It would be much easier to read an ADSR image display, than looking at 4 different knobs to realize how the ADSR of Massive X is set.
While I am sure and confident that Native Instruments is working hard to update Massive X. The current rendition feels like an early access version of the synth-to-come.
Anyone remembers Fallout 76?
Visual feedback is a crucial functionality for sound designers. Because, as a sound designer, I really want to have a visual feedback when I'm crafting new sounds and patches for my music.
Insert Effects
Insert Effects have been increased from the two slots we saw in the original Massive. You can now use up to three different effects in Massive X. While you can see some of the more usual effects like bit crushing and distortion modules, there is also some analog style oscillators that you can mix in with the dual wavetables. My favourite module is the Frequency Shifter effect which can really make the sound come alive.
Master Effects
In the final, rightmost section in Massive X you find the master effects. There are three effect slots with reverb, delays, chorus etc. The effects have a very nice quality and a big lift from the original Massive is that the reverb module now offers multiple reverb types.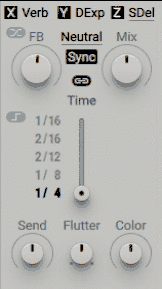 Powerful delay
Did I mention that the delay also offers three different delay types (neutral, warm, hot) in Massive X? And the delay is also designed so you can select a set of different delay times. Then scan through these delay times with a fader (see image).
Massive X review – The Verdict
In conclusion, Massive X features a pristine sound engine with lovely creamy filters. Furthermore, it still needs some work on the user interface. I know NI is actively updating their softwares. So I'm sure we will have plenty of features and updates coming shortly.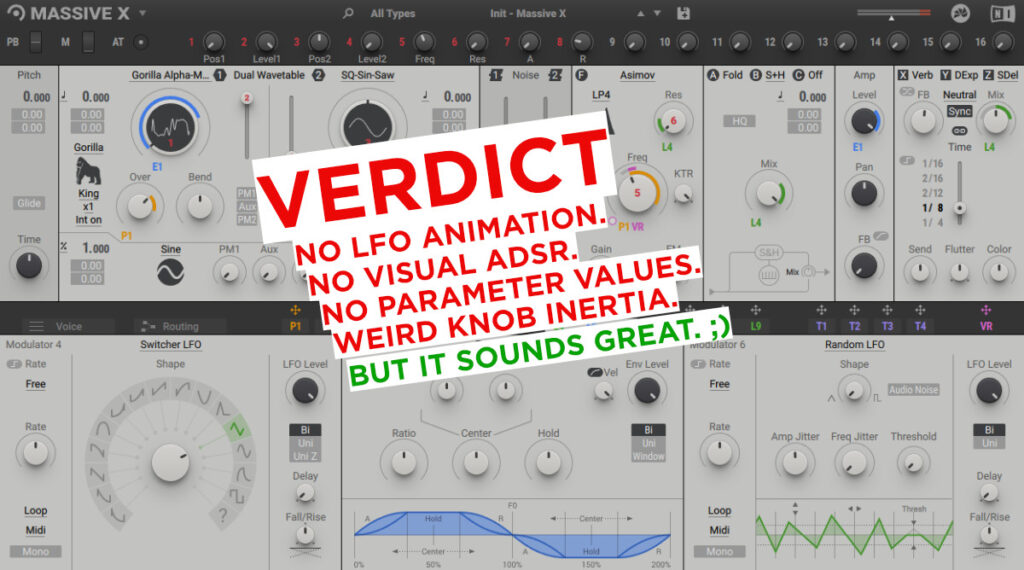 Will Massive X replace Serum or vanilla Massive?
It's hard to tell at this point.
At the current state Serum is still superior to Massive X in so many ways. In Serum we can design / import our own wavetables. We also get visual feedback for the envelopes, lfo oscillations and modulation etc.
Still, Massive X does come with some unique new features like the modular node editor and some really nice oscillator effects. I will need to come back to Massive X and do an updated review in a few months when it has had time to mature.
Thanks!
What gear I use in the studio? Check out the Resources Page.

Join my exclusive community: https://www.patreon.com/gelhein

Be sure to sign up to our newsletter for new exciting articles in design, music production and sound design.

Boost Your Productions – Pristine Sound Packs