New Synthesizers, Midi Controllers, Modular Synth, Software, and more
After 24 hours of flight from Sweden to LA, I came to grab the Synth Highlights of NAMM 2020. The best upcoming synths this year!?
NAMM… the trade show where we get to try hands-on the latest upcoming music gear. A few manufacturers announced their new product lines just before NAMM. Like the Korg's reissue of the ARP 2600. Which quickly was sold out and stirred up discussions in the synth community.
I compiled a video below where you get to see some of the upcoming synth, midi controllers, modular and guitar gear.
Synth Highlights NAMM 2020
While NAMM is the largest tradeshow for music gear in the world it would be insane to try and cover all the synths. But here is my favourite selection of synth highlights at NAMM 2020.
KORG presented an array of new synths & workstations a week preceding NAMM, let's first talk about the joker synth – The WaveState!
Wavestate by KORG – Synth Highlight
Right before NAMM, Korg announced the Wavestate which updates Korg's classic Wavestation with modern features that will attract sound designers, film composers and producers who want a complement to their analog gear.
Wavestate comes with a 2GB memory full of exciting samples and takes the digital synthesis concepts from the 1980s / 1990s to a whole new level.
The pristine synth engine of the Wavestate, is based on four dedicated PCM oscillators with the major synthesis method of wave sequencing and vector synthesis. Each oscillator can be separately sequenced and animated. Max polyphony is 64 stereo voices.
Wave Sequencing 2.0
KORG calls this updated version of the synth engine, Wave Sequencing 2.0.
Wave Sequencing 2.0 splits apart the timing, the sequence of samples, and the melody, so that each can be manipulated independently. Also added are new characteristics including shapes, gate times, and step sequencer values. Each of these is a "Lane," and each Lane can have a different number of steps and its own start, end, and loop points.

Every time the sequence moves forward, the individual Lanes are combined to create the output. For instance, a sample may be matched with a different duration, pitch, shape, gate length, and step sequence value every time that it plays. You can modulate each Lane's start, end, and loop points separately for every note, using velocity, LFOs, envelopes, Mod Knobs, or other controllers. Each note in a chord can be playing something different!
Lanes can also randomize the step order every time they play, with realtime control over the range of included steps. Finally, individual steps can be randomly skipped, with a modulatable probability from 0 to 100%. The result is organic, ever-changing sounds that respond to your control. The four onboard arpeggiators can interact with Wave Sequences for even more possibilities.
What sounds can we expect in the Wavestate PCM library?
In the PCM library you will find a vast collection of regular waveshapes as well as multi-sampled (per key, not per velocity) natural instrumentals. There is some really nice kalimbas, piano, strings, brass, and much more.
I found that the selection of samples is really unique, and great, as you find some interesting string performance variations in the library.
Wavestate Synth Filters
Wavestate also features several analog modeled filters. From the MS-20 Lowpass or Highpass filter. To the strong Polysix lowpass filter. Furthermore there are 2- & 4-pole filters. Finally, there is also KORG's unique multifilter. That's a whole suite of filters to basically fill any need.
You also find tons of integrated effects, and options for remarkably complex modulation inspired by the world of modular synthesis.
Each Oscillator Layer has three dedicated effects; additionally, the Performance has a master reverb and parametric EQ!
Somehow the Wavestate reminds me a bit of the VST instrument Omnisphere 2… And that's in a great way! Many sounds in this synth are huge!
Wavestate is a nice complement to the "analog wave" of gear we have seen the last few years. The synth engine can really create some upfront and continuously morphing sounds. But also smooth soundscapes.
I'll definitely be coming back to the Wavestate soon!
Nu:Tekt NTS-1 – DIY synth by KORG
KORG also presented the Nu:Tekt NTS-1 which basically is a DIY kit to build a complete synth. It's a small package, and you can easily assemble the NTS-1 yourself (tools included), without any soldering. Time to get your hands dirty!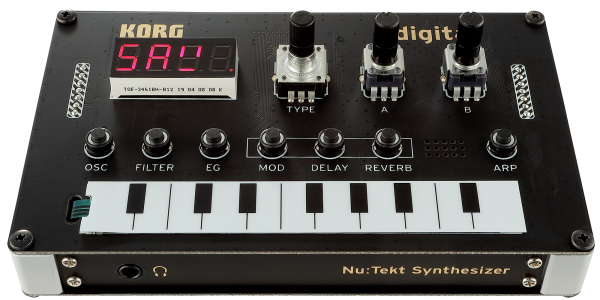 The first of its kind from KORG's DIY-focused Nu:Tekt brand, NTS-1 packs a powerful synth and multi-effects engine into a compact and highly portable form factor. Its DIY nature means it's also very customizable. Explore the possibilities!
NTS-1 is also completely compatible with the logue-SDK, which makes it possible to create custom oscillators and effects or upload any of the content available for Minilogue XD and Prologue.
KORG Synth Prototypes – Don't tease us like this!!!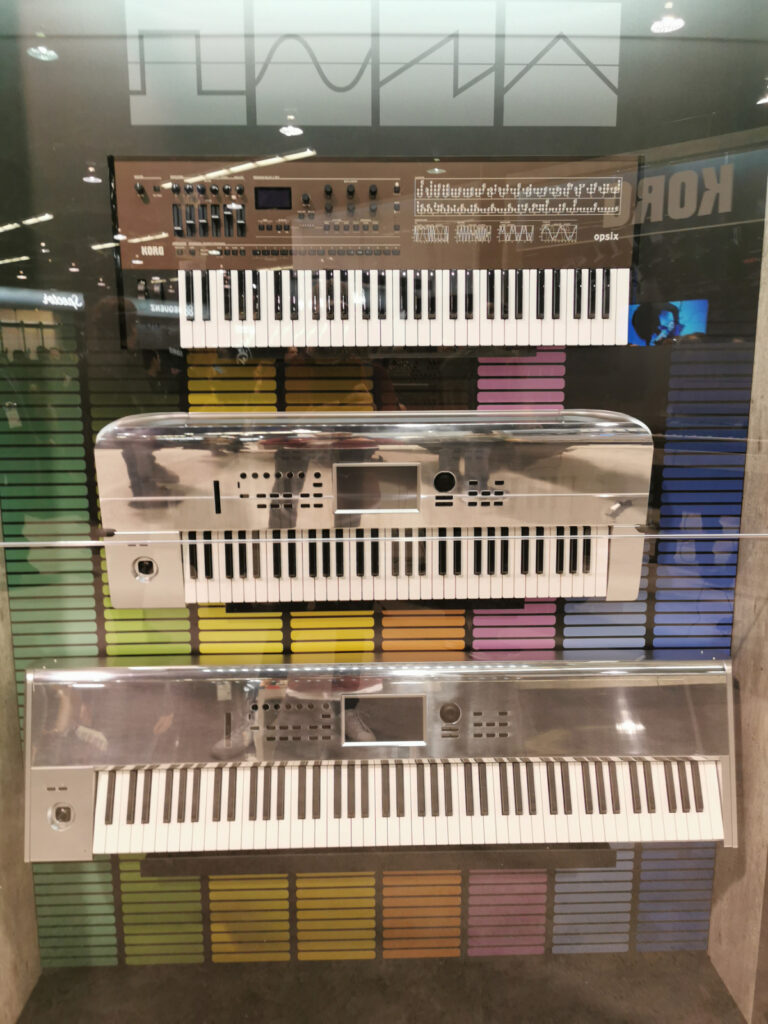 One big surprise was the glass booth where KORG showed three anonymous prototypes of their upcoming synths / workstations.
The only synth with some kind of name hint was the Opsix at the top. A six operator FM synthesizer which I was told should be properly revealed in 3-4 months. Could this be a successor to the DX7!? The shiny and silver clad synths below the Opsix look very much like the good old Triton Synths. Don't you think?
ARP 2600 FS
Of course KORG had a big booth to highlight the ARP 2600 FS. A big bold synth which also already sold out. Too bad it's limited edition…I won't even go there. Different discussion. 😉
The ARP 2600 FS is a replica of the 2600 from the 1970s, and carry the same form factor and workflow as the original. Featuring 3 wide-range oscillators, a huge-sounding filter, ADSR, VCA, ASR, stereo spring reverb, sample and hold, and tons of integrated voltage processing utilities.
Their new take on the 3620 keyboard maintains duo-phonic operation and adds an integrated arpeggiator and 101-style step sequencer capable of storing and playing back sequences of up to 128 notes long.
You can also safely use the ARP 2600 FS on the road, as it ships with a solid and durable flight case.
The price? $3,899 and sold out.
MPC One by AKAI PROFESSIONAL
Many musicians want to get away from the computer and one way to work "outside the box" is to go with an MPC groove box. It's quite some time now since Akai released the MPC Live which was the first step at a portable studio system. With it's Lithium-Ion battery and powerful set of internal plugins, SSD drive support for sample storage, it was a dream come true for many artists. At NAMM 2020 AKAI presented the MPC One.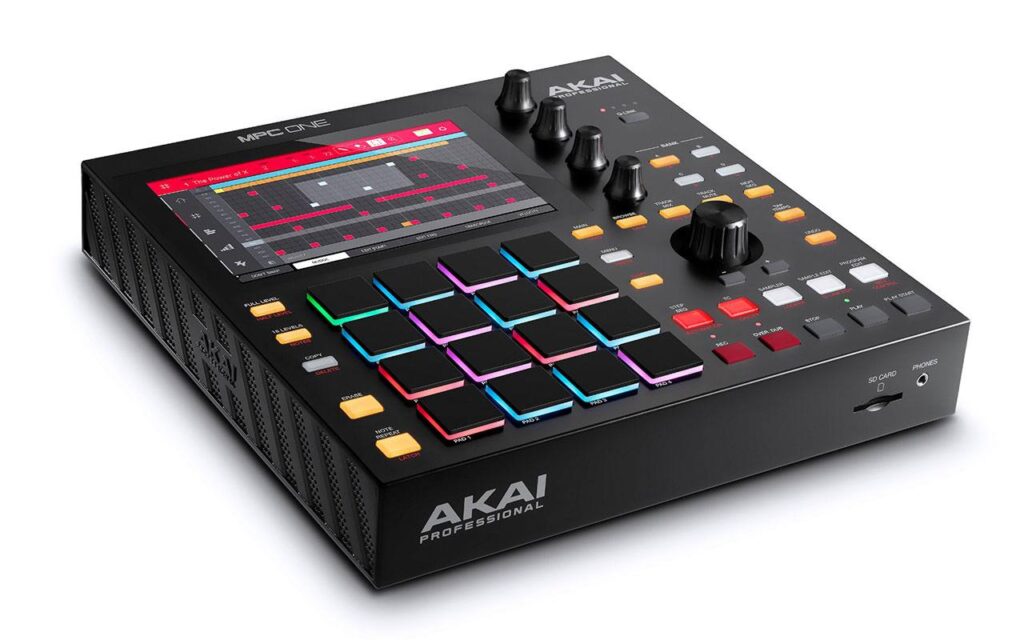 It's a groovebox, sampler, workstation and can run virtual synths, effects with a great set of ports for connectivity. You will find 4x CV/Gate for Eurorack, Stereo in/out, 2 GB of storage and 2 GB internal RAM. USB port and SD card slot. The MPC One has a brilliant 7" Multi-Touch Display and has a very nice and tight form factor.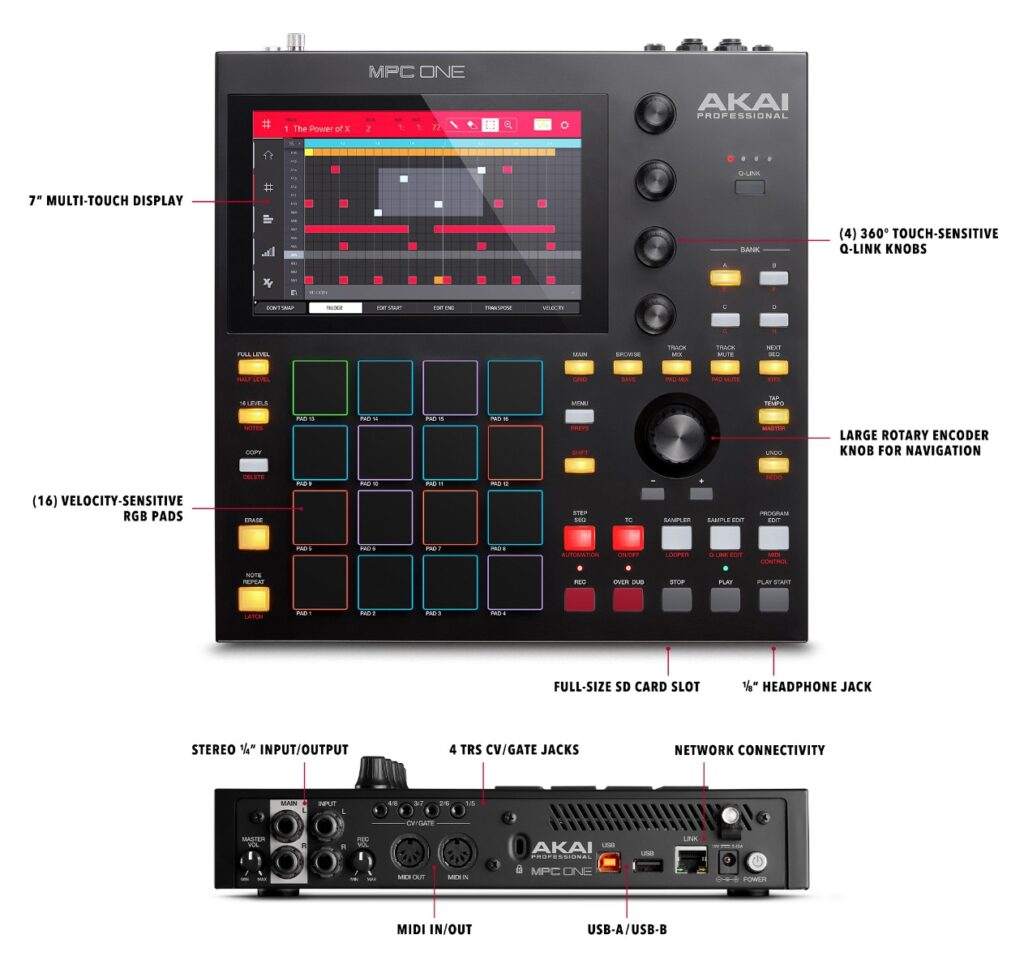 Unlike the MPC Live it's not battery powered so MPC One is not as portable, but the price points is definitely attractive. While the MPC Live is about $1000, the MPC One will be around $700!

MPC One Overview video from Akai:
KeyStep Pro from Arturia
Arturia showcased the new controller / sequencer KeyStep Pro at NAMM.
It features 4 independent polyphonic sequencer tracks and a 16-part integrated drum sequencer. KeyStep Pro features a three octave keyboard with velocity sensitivity and aftertouch. Letting you fully articulate your musical ideas.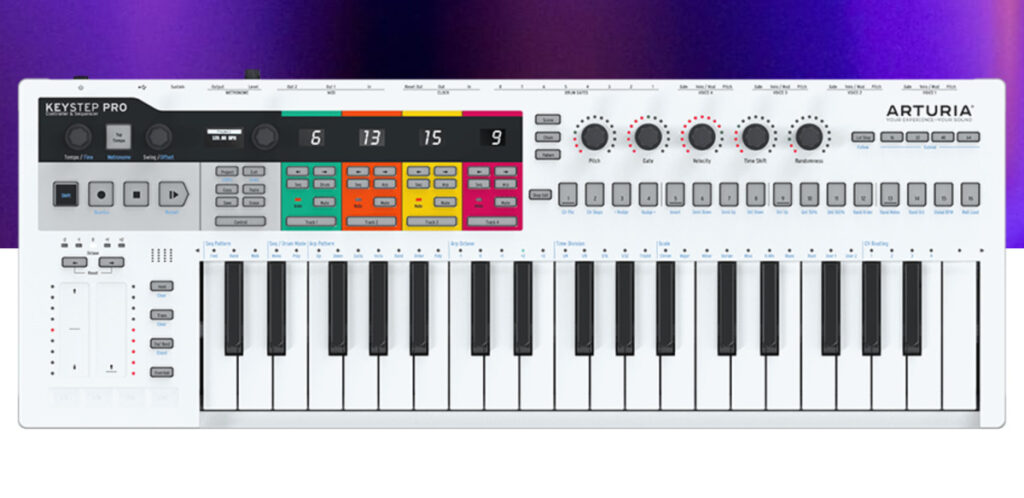 This beat sequencer has 16 patterns per track. Each sequencer pattern can be up to 64 steps long, and contain 16 notes per step.
This really looks like a powerful and flexible sequencer though I didn't have time to try it out at NAMM 2020. Furthermore you can link up to 16 patterns together to create whole songs or sections of your set. Snapshots of all the sequences within a pattern, letting you instantly switch between sets of sequences.
You can then store your projects in the KeyStep Pro's onboard memory for instant access!
Finally, the KeyStep Pro seems to be a great mixture between the BeatStep and the KeyStep and will cost around $450.

Sequential Pro-3, Synth Highlight
The company Sequential which was previously named Dave Smith Instruments showcased the Pro-3. The Pro 3 is a three-oscillator paraphonic synth that combines both analogue and digital components. There are two analogue oscillators each with saw, triangle and variable-width pulse waves. It's a really big sound in this synth with three classic filters, like the Prophet 6 filter, Ladder Filter, OB-6 State Variable filter! Furthermore the Pro-3 features some really gritty analog distortions and a versatile yet deep sequencer.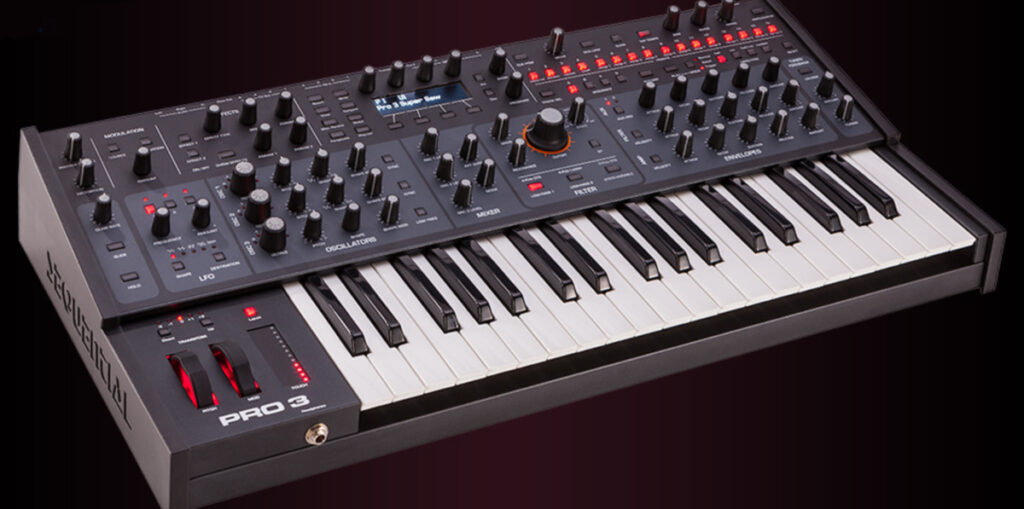 You can watch Dave Smith demo the Pro-3 in the video below:
Nektar Aura by Nektar Tech
Nektar showcased their latest beat machine (midi controller / sequencer) which is something between a Maschine and MPC Live. The AURA comes with a custom plugin called Nektarine. Importantly the Nektarine 2.0 plugin comes pre-mapped with all your favourite plugins and makes the AURA a good choice for controlling plugins.
AURA Bitwig integration
Nektar has a good solid reputation for Bitwig Studio integration from their Panorama series of midi keyboard controllers. Thus, the AURA seems like it's going to play very nicely with Bitwig too! Can't wait to get my hands on the AURA to give it a deep review.
Hardware features of AURA
Hardware features like 16 hyper-sensitive RGB illuminated pads, color TFT display, an on-board step sequencer, a flexible pad repeat engine and incredible plugin control, make beat creation in any VST, VST3, AU or AAX compatible DAW-environment a fun experience with true groove-box feeling.

Paired with the included Nektarine 2.0 software, AURA becomes a plugin control powerhouse for VST, VST3 and AU plugins. AURA can also be used in stand-alone mode with external MIDI devices.
Custom Nektar DAW integration adds extended transport control, track selection, project navigation and more. Nektar DAW Integration software is included for Ableton Live Suite, Bitwig, Cubase, Digital Performer, Garageband, Logic, Nuendo, Reaper, Reason, Studio One and Sonar/Cakewalk.

Price: €349
My NAMM 2020 backpack
Let's wrap this article off by a little video of my backpack equipment and preparation for the NAMM show 2020. Hope you enjoy the article and that you found some info on what to expect in the synth area.
What gear I use in the studio? Check out the Resources Page.

Join my exclusive community: https://www.patreon.com/gelhein

Be sure to sign up to our newsletter for new exciting articles in design, music production and sound design.