UJAM has a broad line of electronic drum plug-ins with the Beatmaker suite of plugins. Beatmaker VICE is the drum machine plugin specialized in the sounds of the 80s. If you are looking for instantly usable Synthwave / Retrowave beats this plugin comes loaded with pre-recorded midi loops. Furthermore, you get a full set of presets for retro- and modern drum beats.
Check out Beatmaker VICE at UJAM website.
UJAM, the company behind Beatmaker suite of plugins
UJAM is a software development company founded by the renowned Hans Zimmer and Pharrell Williams focusing on developing high quality plugins for music producers and composers. This is truly an exciting rooster of experts in cinematic sound design for film and media composition.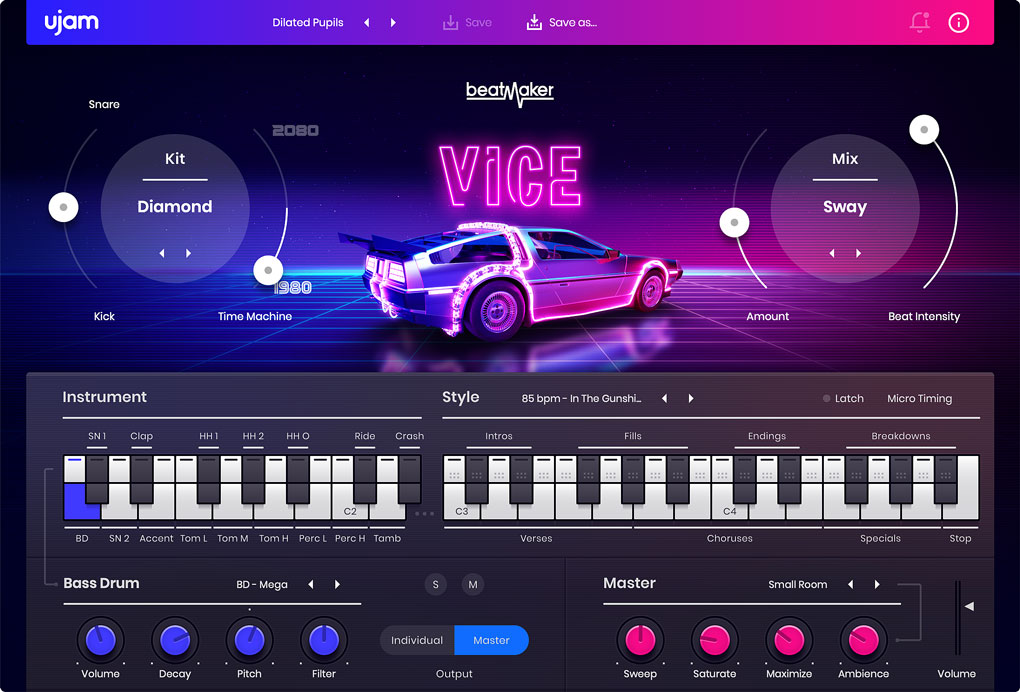 Beatmaker VICE – what's in the plugin?
Straight out of the box, we can hear that Beatmaker VICE pays homage to the lovely 1980s drum machines from Roland, Korg, Linn etc.
Fans of Vangelis, Jean Michel-Jarre, Giorgio Moroder and Trevor Horn will feel right at home with the palette of sounds that VICE offers. While the major concept of VICE is to give you hands on access to excellent synthwave drum beats. It can also yield more modern and hyped drum sounds with ease.
The plug-in is comprised of 10 drum kits, 12 smart-mix presets with over 30 styles and 60 presets to play with. VICE is pre-loaded with 460 patterns to be used as segments of an arrangement. The patterns include intro, verse, chorus, fill, ending and so on.
It is a big plus that all the Beatmaker plugins have a similar design and layout. That makes it easy to get going if you know one of the Beatmaker plugins from before.
Beatmaker VICE comes as VST, AU and AAX plugins.
Retro Futurism – VICE presets for modern and retro synthwave
In VICE you will find three main categories of presets; Retro, Modern and Experimental. The presets will adjust between the various kits and smart-mix presets to give you instant access to specific settings.
The Beatmaker VICE presets includes mix settings with compression and saturation to balance and fit the beats into your songs.
Multi-output of individual drums in Beatmaker
Yes, in Beatmaker VICE you can select, per individual drum sound, if you want to included the drum in the main mix, or as a separate mix output. In conclusion, this gives you complete control if you want to mix and process the individual drum sounds in the DAW. Or let VICE make the perfect mix for you.
While the individual outputs can be fun and give you deep control, I personally think that the main stereo output and processing of Beatmaker VICE gives you a punchy and perfect drum sound.
If you want to learn more about how to produce and compose Synthwave you can check out my article and video on producing the track "Shields Up".
Drag and drop midi loops
In the Beatmaker VICE plugin you find a huge array of midi loops which give you instant access to 80s inspired beats. The loops are excellent for making quick song arrangements.
The quickest way of working with VICE is to trigger these loops via the keyboard. It's also possible to latch the loops. Latch works like an on/off switch function so you can activate or de-activate the playback of a loop. The latch is time synced to beats, and also makes sure no more than one midi-loop is active at any one given time.
If you want to edit these pre-made loops further you can always just drag / drop the loops unto your DAW arrangement.
Buy Beatmaker VICE at UJAM website.
Boost Your Productions – Pristine Sound Packs