With a flora of free plugins on the internet only a fraction will really take your sound to the next level in modern music. Therefor I want to show you my top 5 free vst plugins for mixing 2018 that will enhance your music.

Here is my selection of top 5 free plugins that I use on a daily basis to help me render quality mixes in games, film, media and the EDM genre.
---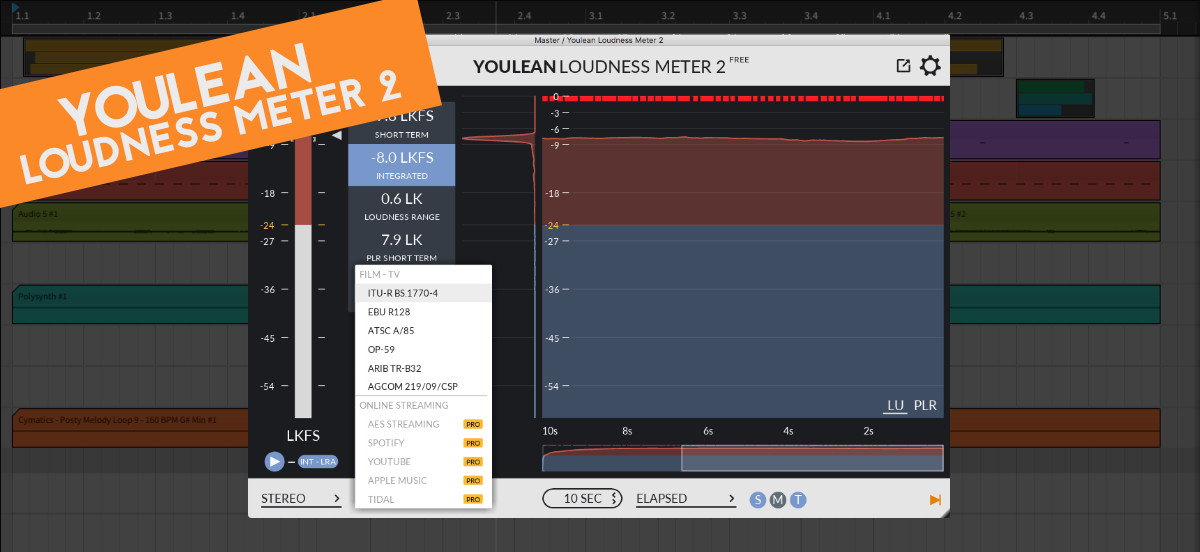 1. YOULEAN – Monitor your levels accurately
The loudness war is over! Are you with me on this one? I hope so!
In order to mix and master your music and prevent it from sounding crushed and unprofessional You Lean is your top choice monitoring plugin.
This is the first plugin I add to my master buss before I begin any kind of audio project. I know I will be in safe hands throughout the session.
I was happily surprised to see that they released an updated version of YouLean in 2018 with a improved interface and additional features. The GUI can now be resized and scaled to fit your personal monitoring preferences. Time to get some use out of that 4K display!
Most importantly it gives you accurate loudness meter with all the necessary metering standards for professional music and broadcasting.
Just select the standard of your choice, like the ITU-R BS.1770-4 standard and let the plugin work for at least 10 seconds to measure the LUFS (More on metering in another article). You will get the useful metering information in short term, momentary and true peak max loudness.
The plugin is the perfect monitoring tool to get the correct loudness levels for upload to Spotify, YouTube, Apple Music and Tidal.
-16 LUFS for the win! Still with me? =)
Get the free You Lean Loudness Meter 2 plugin here.
---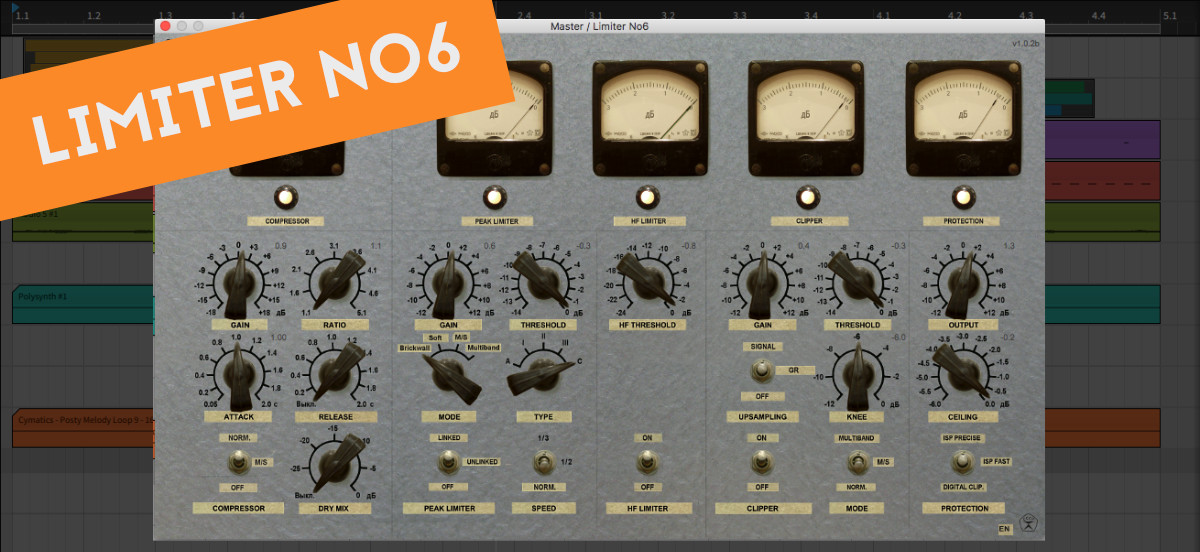 2. Limiter No.6 – gain stage mastering
Limiter No.6 is a real great mastering plugin with plenty of features to get your song mixes to a really professional mastering level. Especially if you combine it with the You Lean Metering Plugin (above).
The limiter plugin has 5 separate sections / devices, commonly called gain stages. First hand to the left is a fully featured Compressor, followed by a Peak Limiter. After the PL you have a nifty HF limiter (High Frequency limiter) where you can control any limiting on peaking high frequency content.
The fourth device in the chain is the Clipper where you can really squash the signal and prepare the signal for the final gain stage device.
The last device is the Protection where you control the ceiling and output of the limited signal. You can of course turn on and off each individual section and find your perfect mix & mastering match.
The plugin has a certain character and nuance when pushed hard. Nonetheless I think it produces a very warm and pleasant output that many music styles will benefit. This should be a no brainer in your vst plugin collection.
There is also a updated version available called TDR Limiter 6 GE. But the more recent version is unfortunately not free.
Get the free Limiter 6 plugin here.
---
Boost Your Productions – Pristine Sound Packs
---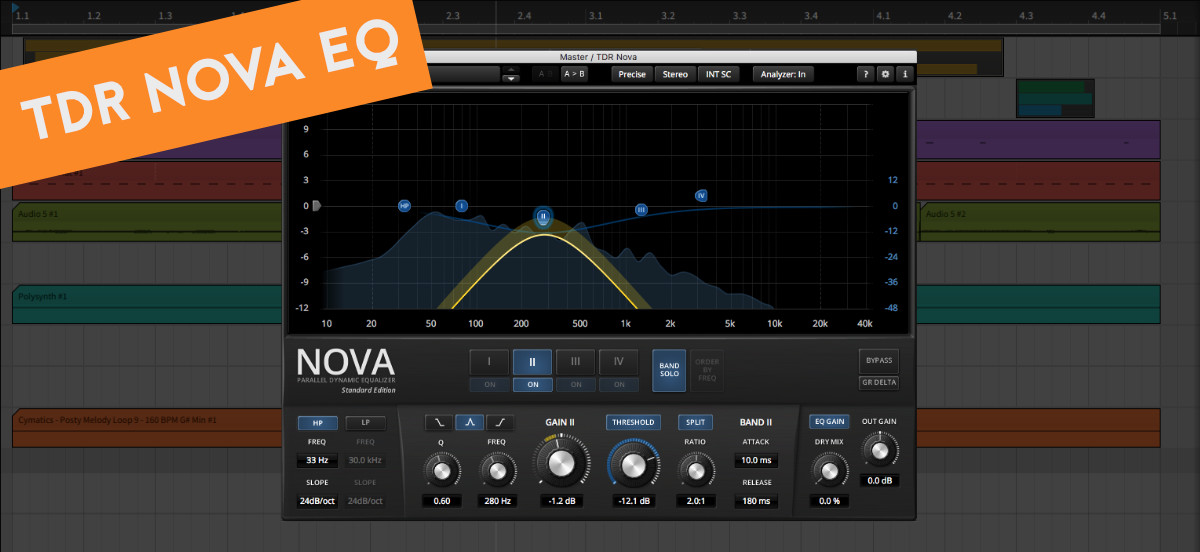 3. TDR Nova EQ – dynamic eq & compressor
Nova is a swiss army knife when it comes to fixing problematic frequencies and balancing in your individual sounds or complete mix. It is a very capable parallel dynamic equalizer.
Visually you feel comfortable in the layout of a parametric equalizer, each band also includes a full featured dynamics section allowing the processor to cover a wide range of applications. The sound is transparent and the dynamic functions works great for compressing the low, mid and high bands separately.
In practise you can use TDR Nova EQ to do:
Parametric equalization
Dynamic equalization
Multi-band compression
Wideband compression
Frequency selective compression

Get the free TDR NOVA EQ plugin here.


---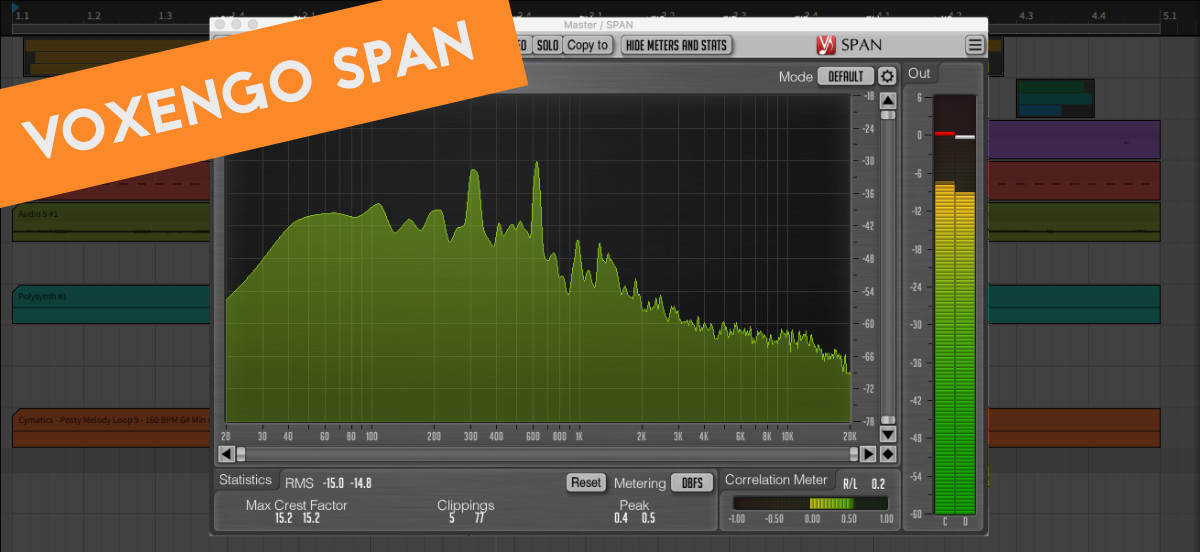 4. Span – Free Spectrum Analyzer
If you are serious about your audio and mixing quality you do need a spectrum analyzer. It helps you make important decisions in everything from sound selection, sound design to mixing and mastering.
Importantly find annoying frequencies and balance your mix. I usually add it to almost every track before I start designing my sounds so I can visually see the sound as it develops.
This plugin will show you a deeper and more detailed view than most of the native Spectrum Analyzer plugins of your DAW.
The design is a bit outdated, but it does look much better than many other free plugins so just grab it! We're here to mix… not to look at nice pictures.
The Span plugin from Voxengo comes with plenty of features:
Stereo, mid-side, surround spectrum analyzer
Stereo correlation meter
K level meter
RMS, peak level and clipping detector
Get the free Voxengo Span plugin here.
---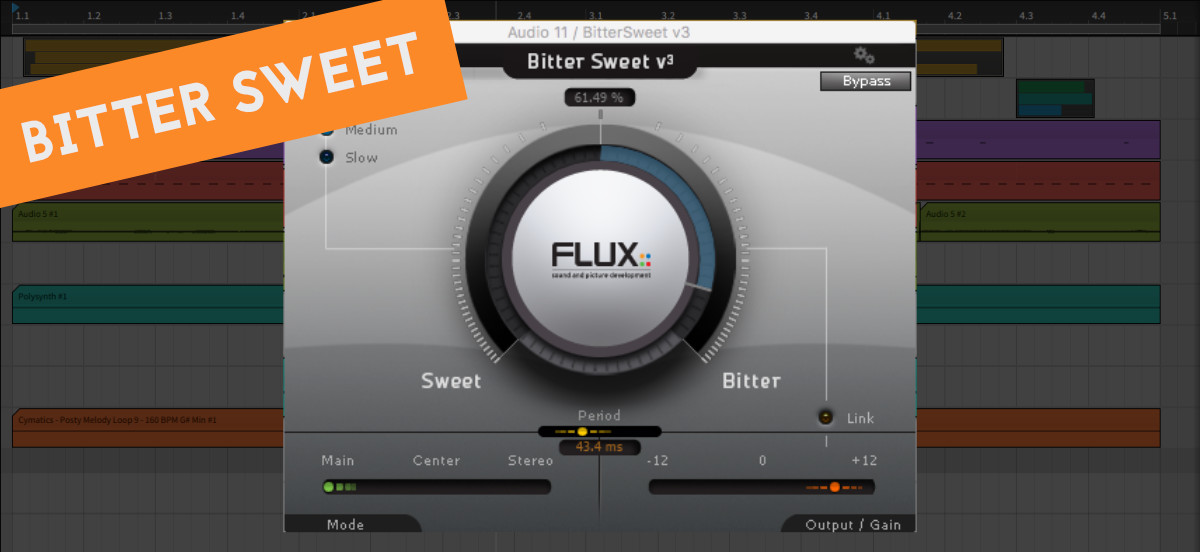 5. Bitter Sweet – get control over your transients
Are you recording acoustic guitars? Then Bitter Sweet is an excellent plugin to begin your signal chain with to really focus the tone of your guitar. Make it bite like a crocodile or make it soft like silk.
The giant knob Sweet / Bitter is easy to work with and makes it easy to find a great setting for your different tracks. Squash the sounds from the guitar pick and make your guitar performance smooth by turning Flux towards the Sweet spot.
Or turn it to the Bitter side and make the transients bolder.
The plugin auto compensates the gain, but there is an additional Output Gain knob if you need to adjust it further. Maybe you have a drum section that lacks definition and just lacks
Get the free Bitter Sweet plugin here.
---
Top 5 free vst plugins for mixing 2018 – Summary
Lastly, there are many great free plugins on the market. These plug-ins are the ones that I can stand behind and truly support. Even though I have plenty of higher priced AAA plug-ins, these free plug-ins tend to creep into my mixing workflow.
Importantly, these plugins can be a great starting point to give your music a professional polish and edge.
Do you want to learn more about how to create interesting transitions in your music? I recently did a video and article on transitional techniques in music production.
---
Bonus audio plugins that I feel we should mention today!
4. HEAD CRUSHER – high octane saturation
This is a beast of analog saturation vst plugin. Use it to beef up your drums or percussion section. Apply a small portion of saturation to your vocals or completely destroy your mixes. The power and control of distortion is in your hands.
Obviously you control the amount of drive with the DRIVE knob. Remember that just a little saturation goes a long way. It's very easy to make your sounds fit the mix with Head Crusher.
Remember that just a little saturation goes a long way.
In the sleek interface there are also controls for lowpass and highpass filter. Finally in the centre of the GUI we have a TONE knob which can weight / balance the saturation effect in the frequency spectrum.
Get the free Head Crusher plugin here
Another great effect to add to your vocals is the Colour Copy delay from u-he. I recently did a video and wrote an article on the delay, read more about it here.
---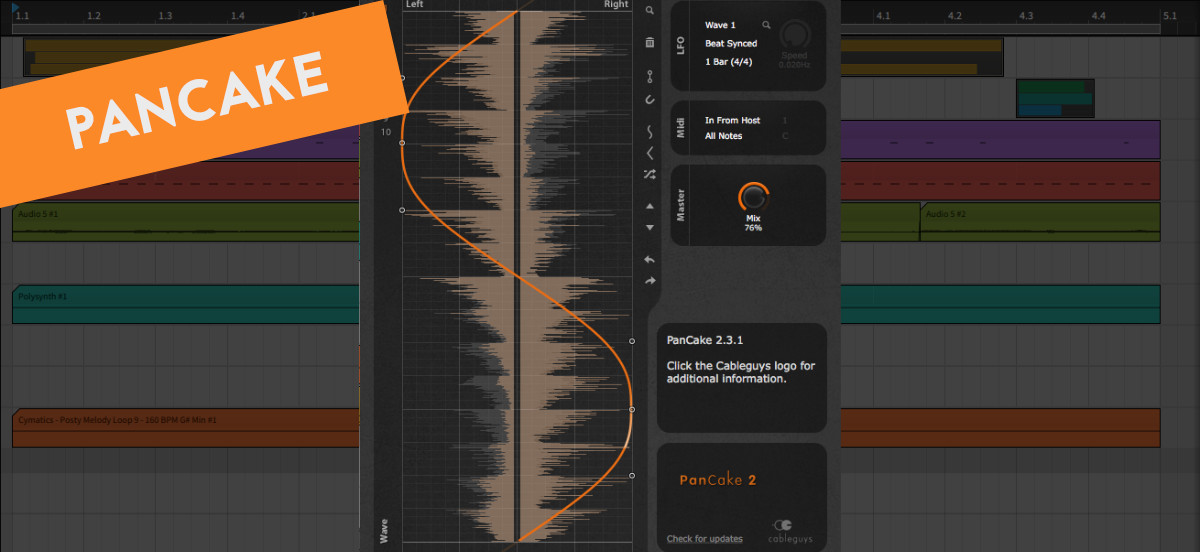 PanCake – moving in the stereo field
Get control over your panning and pan automation. Make your sounds more interesting by modulating them in the stereo field with a very profound and capable LFO.
You can construct your own modulation curves. These curves can easily be drawn using soft or hard control points, thus producing gentle transitions or sharp bends in the waveform.
Beat-sync the PanCake LFO to your DAW, from a fast 1/128 note modulation up to 32 bars. It can also be set free-running from 0.02 Hz to 5.24 kHz. There is also the option to trigger the LFO via MIDI.
A precise display of channel left/right volume provides helpful visual control.
Get the free PanCake from Cableguys plugin here.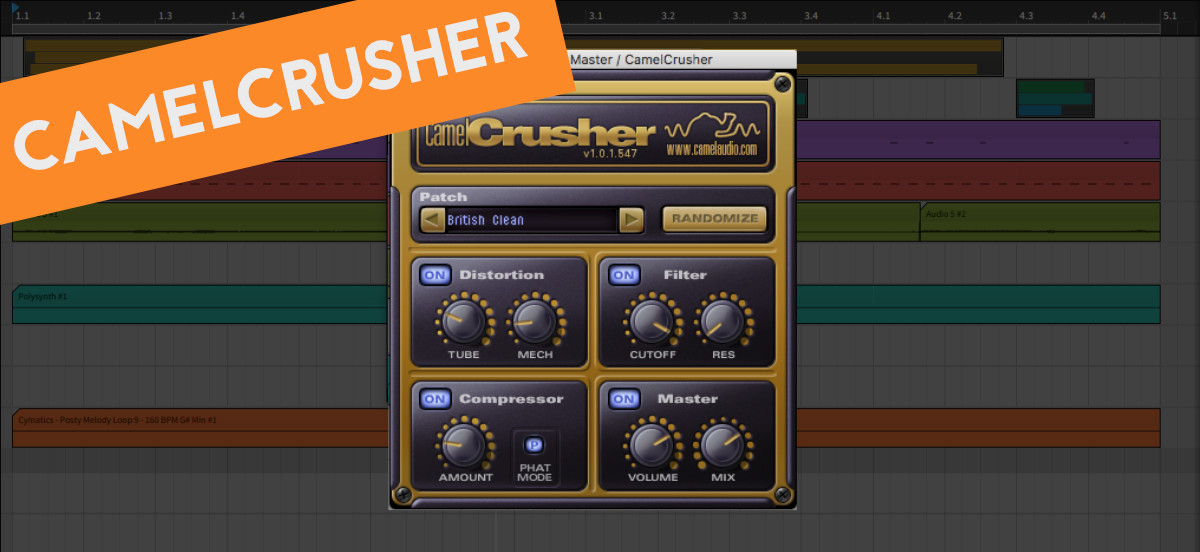 Camelcrusher – more tube distortion to the people!
This audio plugin is a sort of "oldie but goldie", say hi to the mighty Camelcrusher. Your DAW probably already offer some sort of distortion or overdrive effect. But when you compare them to the alternatives on the market they can often fall flat.
Camelcrusher is a great all round Tube overdrive that you can hot up any kind of signal you are working with. Adjust the Filter knob to taste to balance out any annoying overtone frequencies in the higher range after the distortion is applied.
I used Camelcrusher on many individual tracks in the past, though nowadays I rely on Trash 2 for most of my distortion / saturation audio jobs.
But for a free tube distortion plugin you can't go wrong with Camelcrusher so go grab your copy today!
Grab the free CamelCrusher plugin here
---
Last words
I spend a few hours every year looking through the new free plugins on the market to see if there are any new exciting stuff to try out. A little now and then you stumble upon some really good plugins that blows your mind and will ease up your workflow in a heartbeat.
I hope you will find joy in any of the suggested top 5 free vst plugins, and that they will help YOU in your musical mixing and mastering endeavours.

Thanks for reading,
Mattias Holmgren / Creative Director
@ Morningdew Media

Want to learn how pro-producers make solid drum kits?
Then continue reading this article I created on creating professional sounding kits for your beats.
What gear I use in the studio? Check out the Resources Page.

Join my exclusive community: https://www.patreon.com/gelhein

Be sure to sign up to our newsletter for new exciting articles in design, music production and sound design.

---