This article and video explains how to set up the Komplete Kontrol with Studio 4.5 for perfect DAW integration. The Komplete Kontrol mk2 S61 keyboard gives you excellent control over your DAW and NKS compatible instruments. Importantly, Kontrol has a smooth Fatar key-bed, and the capacitive knobs give you quick feedback when you want to browse instruments like on a regular workstation keyboard, or just mix the volume of your tracks.
Using a NKS compatible controller with Studio One can be a great time saver. Do all the important production work directly from the keyboard!
No more mouse!? Well, at least you can do some work from the controller.
Komplete Kontrol features in Studio One:
Transport control – play/stop/record/tempo/metronome
Navigate the playhead – via the big rotary knob
Undo / Redo
Mix – adjust volumes / pan
Switch tracks
Regular CC (Controller Change) automation
Browse NKS instruments / effects (requires the Komplete Kontrol plugin)
Let's dive in and see how Komplete Kontrol S61 integrates with Studio One 4.5. First, connect the Komplete Kontrol to Studio One (read: USB cable between keyboard and computer). 😉
How to set up Komplete Kontrol in Studio One 4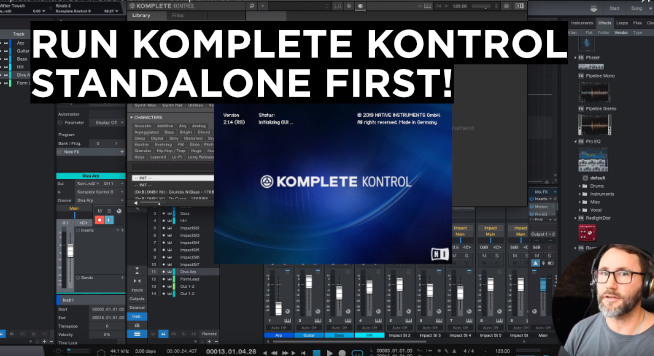 Run Komplete Kontrol standalone application. IMPORTANT!!!
Firstly, you want to run the Komplete Kontrol standalone application. I need to emphasise this step. Because the first time you run Kontrol, it will import and create the meta-data for all your NKS compatible instruments, effects and samples. This import can take a while, but it's necessary to get an accurate NKS library for further use in Komplete Kontrol software.
Furthermore, you are now ready to setup the Komplete Kontrol scripts in Studio One to start using the midi controller and NKS features.
Set up the Komplete Kontrol Scripts in Studio One 4
Komplete Kontrol mk2 S61 needs two scripts activated to make full use of the midi controller in Studio One 4.
Start up Studio One 4.
You need to use at least Studio One 4.5.3. In this version Presonus added support (read: scripts) for Komplete Kontrol keyboards. Open the Preferences tab and press the "Add" button.
Add the "Komplete Kontrol DAW" script.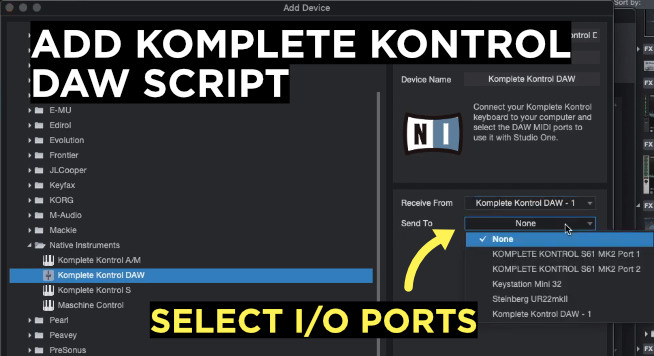 Now we are going to add the first Komplete Kontrol script. Browse to the Native Instruments tab and first select the Komplete Kontrol S DAW control script (see image below). Also make sure to select the Send To port to Komplete Kontrol S61 MK2 Port 1!
Add the "Komplete Kontrol S" script.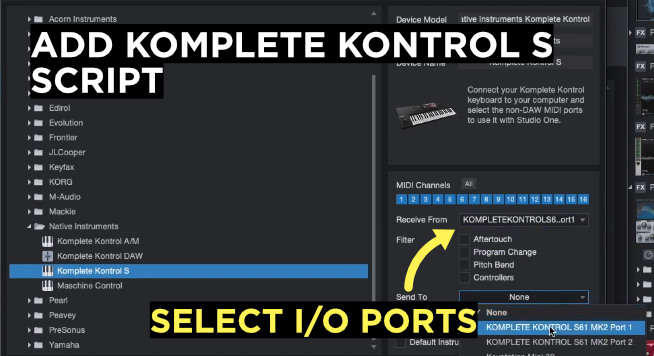 Next up we need to add the second script, the Komplete Kontrol S script. This script handles the input / output from the actual midi keyboard. Without this script you will not get any midi input (notes etc.) to Studio One. In this script page you can also set this keyboard to the default input keyboard, which can be helpful.
Great, the Komplete Kontrol mk2 S61 is now ready for use with Studio One!
How can Komplete Kontrol ease your work in Studio One 4.5?
Let's first talk about the general DAW control you have in Studio One with the Komplete Kontrol midi controller.
The big rotary knob will move the playhead in your Studio One project. Great for navigating your songs! Then the regular transport buttons to the left is for play, stop, record, metronome on/off, quantize etc.
Three important Kontrol pages
There are three important pages (or views) on the Kontrol. Each page is designed for specific controller options.
Mix Page – General mixing
Midi page – CC editing
Browser Page – NKS instruments & effects
Mix page
Firstly, the Mix page is for controlling Studio One general functionality like:
Switching active track
Mixing track volume / pan / mute / solo
Notice that you can even see the sub tracks of your Impact instrument (drum tracks like hi-hat, snare, cymbals etc.).
Midi page
Secondly, we have the midi page. This Midi page lets you adjust regular midi controller change (CC) data via the capacitive rotary knobs. If you want to change the default midi CC parameters you can always fire up the standalone version of Komplete Kontrol and access the MIDI Assignment Editor.
Browser page
Finally, the Browser page is for browsing NKS compatible instruments and effects. It also let's you get deep access to parameters of your plugins. Browser page can only be accessed if you have the Komplete Kontrol insert plugin on the track. Komplete Kontrol vst plugin is necessary to make full use of the Komplete Kontrol midi controller.
If you want to learn more about browsing NKS instruments / effects with Komplete Kontrol mk2 S61 keyboard I did this extensive video & article explaining all the important features of this keyboard.
What gear I use in the studio? Check out the Resources Page.

Join my exclusive community: https://www.patreon.com/gelhein

Be sure to sign up to our newsletter for new exciting articles in design, music production and sound design.

Boost Your Productions – Pristine Sound Packs